Barnstable Municipal Airport
Mass. Airports, Landing Strips
The Barnstable Municipal Airport also known as Boardman or Polando Field, located in Hyannis, Massachusetts is the main hub for Cape Cod. It is a public airport that hosts 3 airlines for scheduled flights, which are, Nantucket Airlines, Cape Air and Island Air. MA Living suggests you call to confirm the information before scheduling your flight.
Want to track a flight? Visit our Flight Tracking section to easily track your next flight. To feature your Berkshire region airport or airline service, please contact us. Learn more about advertising in MALiving.com.
Barnstable, Massachusetts Municipal Airport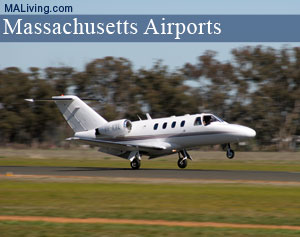 Barnstable Municipal Airport
480 Barnstable Rd.
Hyannis, MA 02601
Ph: 508-778-7770
Location
FAA Identifier: HYA
lat/Long: 41-40-09.6110N / 070-16-49.2810W
41-40.160183N / 070-16.821350W
41.6693364 / -70.2803558
(estimated)
Elevation: 55 ft. / 16.8 m (surveyed)
Variation: 16W (1995)
From city: 1 mile N of HYANNIS, MA
Time zone: UTC -5 (UTC -4 during Daylight Savings Time)
Zip code: 02601
Airport Operations
Airport use: Open to the public
Activation date: 02/1940
Sectional chart: NEW YORK
Control tower: yes
ARTCC: BOSTON CENTER
FSS: BRIDGEPORT FLIGHT SERVICE STATION
NOTAMs facility: HYA (NOTAM-D service available)
Attendance: CONTINUOUS
Wind indicator: lighted
Segmented circle: yes
Lights: DUSK-DAWN
ACTVT HIRL RYS 06/24 AND 15/33; AND MALSR RYS 15 AND 24 – CTAF.
Beacon: white-green (lighted land airport)
Landing fee: no, LANDING FEE FOR ALL ACFT OVER 6000 LBS.
Fire and rescue: ARFF index A
Airline operations:
CLSD TO UNSKED ACR OPNS WITH MORE THAN 9 PSGR SEATS 0000-0600 EXCP 1 HOUR PPR AMGR 508-778-7770.
Airport Communications
CTAF: 119.5
UNICOM: 122.95
ATIS: 123.8(508-778-1143)
WX ASOS: PHONE 508-862-2601
HYANNIS GROUND: 121.9 [0600-2200] HYANNIS TOWER: 119.5 257.8 [0600-2200] CAPE APPROACH: 118.2
CAPE DEPARTURE: 118.2
CLEARANCE DELIVERY: 125.15
WX ASOS at CQX (13 nm E): 135.875 (508-945-5034)
* APCH/DEP SVC PRVDD BY BOSTON ARTCC ON FREQS 128.75/290.3 (BARNSTABLE RCAG) WHEN CAPE APCH CTL CLSD.
* APCH/DEP SVC PRVDD BY BOSTON ARTCC ON FREQS 128.75/387.1 (BARNSTABLE RCAG) WHEN CAPE APCH CTL CLSD.
Airport Services
Fuel available: 100LL JET-A
Parking: hangars and tiedowns
Airframe service: MAJOR
Powerplant service: MAJOR
Bottled oxygen: NONE
Bulk oxygen: NONE
inns | hotels | resorts | rentals | attractions | dining | real estate
Lenox, Northampton, Amherst, Holyoke, Springfield, Pittsfield, Stockbridge, Lee, Adams

Worcester, Brookfield, Fitchburg, Leominster, Southbridge, Sturbridge

Lawrence, Lowell, Salem, Beverly, Gloucester, Marblehead

Boston, Cambridge, Chelsea, Somerville

Brockton, Duxbury, Fall River, New Bedford, Taunton, Plymouth

Falmouth, Barnstable, Hyannis, Nantucket, Marthas Vineyard, Provincetown
Inns | Hotels | Resorts | Vacation Rentals

Real Estate | Products

Dining | Attractions | Business

History | Weather | Beaches

Fishing | Golfing | Towns

Art Galleries | Massachusetts Shopping
New England Airports
Free World Mall

Country Weddings | New England Recipes

Boston Red Sox Gifts | Travel Destinations