Fitchburg Municipal Airport
Mass. Airports, Landing Strips
Fitchburg Municipal Airport is a public airport located three miles from the center of Fitchburg, Massachusetts. This airport has two runways measuring 2/20 3,504 x 75 ft (1,068 x 23 m) and 14/32 measuring 4,510 x 100 ft (1,375 x 30 m).
Want to track a flight? Visit our Flight Tracking section to easily track your next flight. To feature your Berkshire region airport or airline service, please contact us. Learn more about advertising in MALiving.com.
Fitchburg Massachusetts Municipal Airport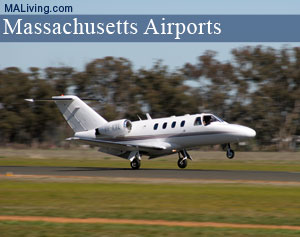 Fitchburg Municipal Airport
567 Crawford St.
Fitchburg, MA 01420
Ph: 978-345-9580
Location
FAA Identifier: FIT
Lat/Long: 42-33-14.8000N / 071-45-32.3000W
42-33.246667N / 071-45.538333W
42.5541111 / -71.7589722
(estimated)
Elevation:
348 ft. / 106.1 m (surveyed)
Variation: 15W (2005)
From city: 3 miles SE of FITCHBURG, MA
Time zone: UTC -5 (UTC -4 during Daylight Savings Time)
Zip code: 01453
Airport Operations
Airport use: Open to the public
Activation date: 04/1940
Sectional chart: NEW YORK
Control tower: no
ARTCC: BOSTON CENTER
FSS: BRIDGEPORT FLIGHT SERVICE STATION
NOTAMs facility: FIT (NOTAM-D service available)
Attendance: 0800-DUSK
Pattern altitude: 1350 ft. MSL
Wind indicator: yes
Segmented circle: yes
Lights: DUSK-DAWN
ACTVT VASI RY 14; MIRL RY 14/32; REIL RY 32 – 123.0.
Beacon: white-green (lighted land airport)
ROTG BCN NOT AVAILABLE DURING DALGT IFR CONDITIONS.
Landing fee: yes, CORPORATE & COMMERCIAL FLIGHTS ONLY.
Airport Communications
CTAF/UNICOM: 122.7
WX ASOS: 135.175 (978-343-9121)
BOSTON APPROACH: 124.4 [0600-2300 15 MAY-30 SEP; 0600-2200 01 OCT-14 MAY] BOSTON DEPARTURE: 124.4 [0600-2300 15 MAY-30 SEP; 0600-2200 01 OCT-14 MAY] WX ASOS at ASH (17 nm NE): 125.1 (603-578-0473)
WX ASOS at ORH (18 nm S): PHONE 508-795-7546
WX ASOS at AFN (19 nm NW): 135.875 (603-532-6195)
CLNC DLVY THRU BRIDGEPORT FSS (BDR) 1-866-293-5149.
Airport Services
Fuel available: 100LL JET-A
Parking: hangars and tiedowns
Airframe service: MAJOR
Powerplant service: MAJOR
Bottled oxygen: HIGH
Bulk oxygen: NONE
Airport Operational Statistics
Aircraft based on the field: 135
Single engine airplanes: 123
Multi engine airplanes: 1
Jet airplanes: 3
Helicopters: 4
Gliders airplanes: 2
Ultralights: 2
Aircraft operations:
avg 173/day
63% local general aviation
32% transient general aviation
5% air taxi
<1% military
inns | hotels | resorts | rentals | attractions | dining | real estate
Lenox, Northampton, Amherst, Holyoke, Springfield, Pittsfield, Stockbridge, Lee, Adams

Worcester, Brookfield, Fitchburg, Leominster, Southbridge, Sturbridge

Lawrence, Lowell, Salem, Beverly, Gloucester, Marblehead

Boston, Cambridge, Chelsea, Somerville

Brockton, Duxbury, Fall River, New Bedford, Taunton, Plymouth

Falmouth, Barnstable, Hyannis, Nantucket, Marthas Vineyard, Provincetown
Inns | Hotels | Resorts | Vacation Rentals

Real Estate | Products

Dining | Attractions | Business

History | Weather | Beaches

Fishing | Golfing | Towns

Art Galleries | Massachusetts Shopping
New England Airports
Free World Mall

Country Weddings | New England Recipes

Boston Red Sox Gifts | Travel Destinations