Westover Metropolitan Airport
Mass. Airports, Landing Strips
Westover Metropolitan Airport is owned and managed under a "joint use" agreement with Westover Metropolitan Corporation (a non-profit organization) and the Department of Defense. The corporation was built to develop property surplused by the General Services Administration at the former Westover Air Force Base. Ninety-one acres of that property is now used and operated as a public civilian airport. MA Living suggests you call to confirm the information before scheduling your flight.
Want to track a flight? Visit our Flight Tracking section to easily track your next flight. To feature your Berkshire region airport or airline service, please contact us. Learn more about advertising in MALiving.com.
Westover Metropolitan Airport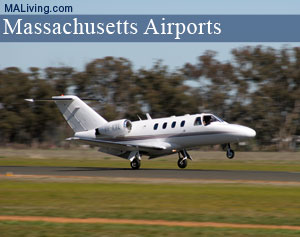 Westover Metropolitan Airport
255 Padgette St.
Chicopee, MA 01022
Ph: 413-593-5543
Location
FAA Identifier: CEF
Lat/Long: 42-11-38.4500N / 072-32-05.2200W
42-11.640833N / 072-32.087000W
42.1940139 / -72.5347833
(estimated)
Elevation
241 ft. / 73.5 m (surveyed)
Variation: 15W (1985)
From city: 3 miles NE of central business district of the associated city
Time zone: UTC -5 (UTC -4 during Daylight Savings Time)
Zip code: 01022
Airport Operations
Airport use: Open to the public
Activation date: 07/1942
Sectional chart: NEW YORK
Control tower: yes
ARTCC: BOSTON CENTER
FSS: BURLINGTON FLIGHT SERVICE STATION
NOTAMs facility: CEF (NOTAM-D service available)
Attendance: 0700-2300
Pattern altitude: TFC PAT: RECTANGULAR LGT ACFT 1000′; LARGE ACFT 2000′; OVERHEAD 2500′.
Wind indicator: yes
Segmented circle: no
Lights: DUSK-2300
AFLD LGTS AVBL ONLY DUR OPERG HRS.
Beacon: white-white-green (lighted military airport)
CLEAR SIDE IS SPLIT. DAYLGT TURNED ON WHEN A/D IS IFR.
Landing fee: yes
Fire and rescue: ARFF index E
Airport Communications
CTAF: 134.85
UNICOM: 123.0
ATIS: 114.0 138.1 [0700-2300] WESTOVER GROUND: 118.35 275.8 [0700-2300] WESTOVER TOWER: 134.85 348.75 [0700-2300] BRADLEY APPROACH: 125.35
BRADLEY DEPARTURE: 125.35
COMD POST 439 AW – (OPR 24 HOURS): 252.1
EMERG: 121.5 243.0
PMSV METRO (FULL SVC 1100-0400++): 274.75
PTD: 372.2
WX ASOS at BAF (8 nm W): PHONE 413-568-2267
WX ASOS at BDL (17 nm SW): PHONE 860-627-9732
(ATIS DESCRIPTION) NO NOTAM MP: 1400-1600Z++THU.
ATCT OPERS EXTENSIONS/IRREGULAR HOURS BY NOTAM.
COMMAND POST/439 AW NAME CASINO ROYALE.
NGT OBSTN LTD DUE TO HI INTST SECURITY LGT. AFLD WX IS MNT BY AN/FMQ-19 AUTOMATED OBSERVING SYSTEM AND AUGMENTED BY HUMAN OBSERVER DURING FULL SVC HOURS.
Airport Services
Fuel available: 100LL JET-A
Parking: hangars and tiedowns
Airport Operational Statistics
Aircraft based on the field: 44
Single engine airplanes: 19
Multi engine airplanes: 4
Jet airplanes: 3
Helicopters: 1
Ultralights: 1
Military aircraft: 16
Aircraft operations:
avg 129/day
59% military
22% transient general aviation
18% local general aviation
<1% commercial
inns | hotels | resorts | rentals | attractions | dining | real estate
Lenox, Northampton, Amherst, Holyoke, Springfield, Pittsfield, Stockbridge, Lee, Adams

Worcester, Brookfield, Fitchburg, Leominster, Southbridge, Sturbridge

Lawrence, Lowell, Salem, Beverly, Gloucester, Marblehead

Boston, Cambridge, Chelsea, Somerville

Brockton, Duxbury, Fall River, New Bedford, Taunton, Plymouth

Falmouth, Barnstable, Hyannis, Nantucket, Marthas Vineyard, Provincetown
Inns | Hotels | Resorts | Vacation Rentals

Real Estate | Products

Dining | Attractions | Business

History | Weather | Beaches

Fishing | Golfing | Towns

Art Galleries | Massachusetts Shopping
New England Living Magazine
Free World Mall

Country Weddings | New England Recipes
Masschusetts Inns | Red Sox Gifts | Travel Destinations