Boston MA Family Attractions
Boston Mass Attractions – Greater Boston Attractions
Welcome to Boston – a Guide to Boston MA Attractions. It's no surprise that you will find numerous museums and historical exhibits throughout this famous New England city. Take a walk along the Freedom Trail to explore the history of colonial times and the Revolutionary War. To truly get a taste of Boston, visit Faneuil Hall Market Place, where you will be greeted with many unique shopping and eating options. Browse the list of MALiving recommended Boston attractions and discover why millions choose to visit Boston, MA every year. To feature your MA business, contact us.
Popular Boston Massachusetts Attractions


Four Points Boston Newton, 320 Washington Avenue, Newton, MA 02458 | 617-969-3010
Just a few miles from Boston and Cambridge, the Four Points by Sheraton Boston Newton offers access to both Newton's charming villages and the excitement of Boston. Catch a Red Sox game, or concert at Fenway Park, stroll the Charles River, Boston Common, or explore the Freedom Trail. Perfect lodging for an in-town wedding. Close to BC, Brandeis, Harvard, and BU. Easy access to local hospitals. Pet Friendly. Make our hotel the home base for your next visit to Boston.
Visit Four Points Boston - Newton, MA
---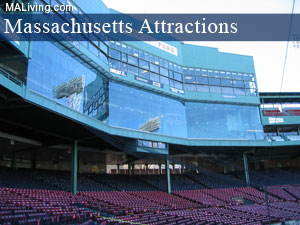 Prudential Center Skywalk
800 Boylston St.
Boston
, MA 02116
Ph: 617-859-0648
Boston's Skywalk Observatory offers 360-degree views of Greater Boston and beyond.
USS Constitution Museum
Constitution Wharf
Boston, MA 02129
Ph: 617-426-1812
Visit "Old Ironsides" America's oldest war vessel. Climb aboard the restored ship and learn how sailors and crew lived.
Fenway Park
Baseball stadium that is home of the Boston Red Sox.
Bunker Hill Monument
Monument Square
Charlestown, MA 02129
Ph: 617-242-5641
A 221-foot monument was built to honor the soldiers who fought the British on Breeds Hill during the revolution. Climb to the top for breathtaking views.
Faneuil Hall
Congress and State St.
Boston, MA 02210
Ph: 617-242-5642
A restored marketplace in Boston that offers a wide variety of restaurants and shops.
Boston Public Garden
Boston Common
Boston, MA 02114
A park and botanical garden are located on the Boston Commons.
Freedom Trail
Boston Common
Boston, MA 02127
Ph: 617-357-8300
A 2-mile long footpath that takes you all throughout Boston's oldest revolutionary war landmarks.
Old North Church
193 Salem St.
Boston, MA 02113
Ph: 617-523-6676
The famous site in which the church Sexton in 1775 warned fellow colonists that the British were coming by hanging a lantern in the church tower, "One if by land two if by sea."
Mapparium
175 Huntington Ave.
Boston, MA 02115
Ph: 617-450-7000
The Mapparium is a three-story tall glass globe of stained glass that is viewed from a bridge through its interior.
Afro-American Meeting House
46 Joy St.
Boston, MA 02114
Ph: 617-725-0022
The first Afro-American Baptist church in America was built in 1806. In the early 1800s, many anti-slavery meetings were held here, some attended by Harriet Tubman.
Franklin Park Zoo
1 Franklin Park Rd
Boston, MA 02121
Ph: 617-541-LION (5466)
This zoo features over 500 different animals.
First Public School Site
School St.
Boston, MA 02108
Ph: 617-357-8300
Puritan settlers established the first public school in Boston in 1635.
Old South Meeting House
210 Washington St.
Boston, MA 02108
Ph: 617-482-6439
During the American Revolution, this building served as a meeting place for colonists to discuss the future of their fate in America and to make plans to succeed from Britain. In 1773 over 5,000 colonists planned the infamous Boston Tea Party here.
Boston Duck Tours
101 Huntington Ave.
Boston, MA 01050
Ph: 617-267-3825
Hop aboard an old WW2-style aquatic land vehicle that will you take you on a sightseeing tour through the streets of Boston, and then into the water for a tour around Boston Harbour.
Arnold Arboretum
125 Arborway
Jamaica Plain, MA
Ph: 617-524-1718
America's oldest public arboretum displays over 15,000 trees and plants.
The Computer Museum
1 Science Park.
Boston, MA
Ph: 617-723-2500
Exhibits at the Computer Museum include a two-story walk through a computer, a virtual fish tank, and a robot theater.
Samuel Adams Brewery
30 Germania St.
Boston, MA 02130
Ph: 617-368-5080
The brewery where Sam Adams Boston Lager is made. There is a knowledgeable staff here that will answer your questions and take you on a tour of the brewery. They also have free samples.
inns | hotels | resorts | rentals | attractions | dining | real estate
Massachusetts Attractions by Region
Lenox, Northampton, Amherst, Holyoke, Springfield, Pittsfield, Stockbridge, Lee, Adams

Worcester, Brookfield, Fitchburg, Leominster, Southbridge, Sturbridge

Lawrence, Lowell, Salem, Beverly, Gloucester, Marblehead

Boston, Cambridge, Chelsea, Somerville

Brockton, Duxbury, Fall River, New Bedford, Taunton, Plymouth

Falmouth, Barnstable, Hyannis, Nantucket, Marthas Vineyard, Provincetown
Inns | Hotels | Resorts | Vacation Rentals

Real Estate | Products

Dining | Attractions | Business

History | Weather | Beaches

Fishing | Golfing | Towns

Art Galleries | Massachusetts Shopping
New England Living Magazine
Free World Mall

Country Weddings | New England Recipes

Boston Red Sox Gifts | Travel Destinations