Cape Cod MA Family Attractions
Massachusetts Attractions – Cape Cod, Martha's Vineyard, Nantucket Attractions
Welcome to your guide to Cape Cod, Massachusetts attractions. This beautiful New England seacoast region is filled with many activities for you to enjoy while on vacation here. In addition to scenic sandy beaches, historic lighthouses, fresh lobster and great golf, The Cape offers a variety of different attractions. During the months of May through October whale watch tours are the most popular thing for tourists to do. The Hyannis Whale Watcher Cruises, based in Barnstable Harbor, guarantee that you will experience a whale sighting. The JFK Hyannis Museum offers visitors a peek into the intriguing life of our nation's 35th President. Browse the list below to view MALiving's recommended Cape Cod, MA attractions.

Contact us to feature your Massachusetts attraction in MALiving – Massachusetts Internet Magazine. Learn more about advertising in MALiving.com.

Cape Cod & The Islands Massachusetts Attractions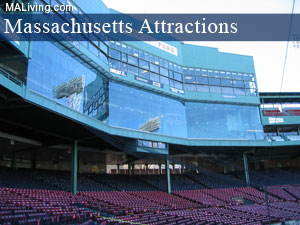 Hyannis Whale Watcher Cruises
Barnstable Harbor, MA
Ph: 508-362-9739
Set out into the Atlantic Ocean to for whale sightings.
Sandwich Glass Museum
129 Main St.
Sandwich, MA 02563
Ph: 508-888-0251
Shows visitors how glass is blown and offers the history of glass making in Boston.
Heritage Plantation
67 Grove St.
Sandwich, MA 02563
Ph: 508- 888-3300
Heritage Museums & Gardens revel in American art and history in 4 buildings offering both exhibitions of the museum's permanent collections and seasonal exhibitions.
Chatham Railroad Museum
153 Depot Rd.
Chatham, MA 02633
Ph: 508-945-5199
Explore the craftsmanship of our forefathers as you examine early railway equipment. Vintage photos of men who made the trains are on display. There are also interactive activities for all ages.
JFK Hyannis Museum
397 Main Street
Hyannis, MA 02601
Ph: 508-790-3077
Explore the life of our 35th president.
The Aquarium
28 Washington St.
Nantucket, MA 02554
Ph: 508-228-5387
This aquarium displays marine life indigenous to Nantucket's salt marshes, harbors and waters. Outdoor excursions and field trips also are available.
inns | hotels | resorts | rentals | attractions | dining | real estate
Lenox, Northampton, Amherst, Holyoke, Springfield, Pittsfield, Stockbridge, Lee, Adams

Worcester, Brookfield, Fitchburg, Leominster, Southbridge, Sturbridge

Lawrence, Lowell, Salem, Beverly, Gloucester, Marblehead

Boston, Cambridge, Chelsea, Somerville

Brockton, Duxbury, Fall River, New Bedford, Taunton, Plymouth

Falmouth, Barnstable, Hyannis, Nantucket, Marthas Vineyard, Provincetown
Inns | Hotels | Resorts | Vacation Rentals | Real Estate | Products
Dining | Attractions | Business | History | Weather | Beaches
Fishing | Golfing | Photos | Art Galleries | Massachusetts Shopping