Fenway Park
Boston MA Attractions
Welcome to Fenway Park – more than just MLB Baseball, Fenway Park is an attraction even when the Red Sox are "on the road".
Tour Fenway or take in a live music concert under the stars Enjoy your visit to historic Fenway Park in Boston. To feature your MA business or New England business, contact us.


Four Points Boston Newton, 320 Washington Avenue, Newton, MA 02458 | 617-969-3010
Just a few miles from Boston and Cambridge, the Four Points by Sheraton Boston Newton offers access to both Newton's charming villages and the excitement of Boston. Catch a Red Sox game, or concert at Fenway Park, stroll the Charles River, Boston Common, or explore the Freedom Trail. Perfect lodging for an in-town wedding. Close to BC, Brandeis, Harvard, and BU. Easy access to local hospitals. Pet Friendly. Make our hotel the home base for your next visit to Boston.
Visit Four Points Boston - Newton, MA
---
Fenway Park: A Historic Icon in Boston, MA
Welcome to Fenway Park, one of the most iconic and storied ballparks in the world. Nestled in the heart of Boston, Massachusetts, Fenway Park is not just a sports venue, but a cultural landmark that has witnessed generations of baseball history, unforgettable events, and cherished memories.
History of Fenway Park: Fenway Park opened its gates for the first time on April 20, 1912, making it the oldest active Major League Baseball stadium in the United States. It has stood witness to countless historic moments in the world of baseball, including Babe Ruth's early career, Ted Williams' legendary feats, and the Boston Red Sox's dramatic World Series victories. The park's distinctive "Green Monster" left field wall, towering at 37 feet, has become an iconic feature that has influenced the game in numerous ways. Over the years, Fenway has undergone renovations, but its essence and historical charm have been carefully preserved, creating a unique blend of old-school charm and modern amenities.
Fenway Events: Fenway Park is not just a baseball venue; it's a hub of entertainment that hosts various events year-round. In addition to thrilling Red Sox games, Fenway has been a stage for concerts, college football games, soccer matches, and even outdoor movie nights. The park's intimate setting allows fans to have an up-close and personal experience with their favorite artists and athletes. The Fenway Concert Series has seen performances by renowned musicians from various genres, adding to the venue's diverse appeal.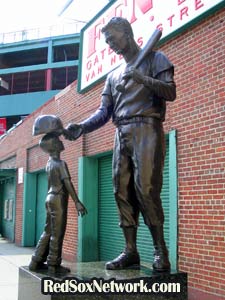 Parking and Accessibility: Getting to Fenway Park is convenient due to its central location within the city of Boston. For those driving, there are several parking lots and garages available around the ballpark, but spaces can fill up quickly on game days. It's advisable to plan ahead and consider public transportation options, such as the "T" subway system or buses, to avoid the hassle of parking.
Fenway Park is committed to providing accessibility for all visitors. The ballpark offers wheelchair-accessible seating, elevators, and ramps to ensure that everyone can enjoy the Fenway experience. Additionally, there are assistive listening devices available for those who may need them.
Whether you're a die-hard baseball fan, a music enthusiast attending a concert, or someone looking to soak in the historic atmosphere, Fenway Park has something for everyone. Its rich history, iconic features, and vibrant events make it a must-visit destination in Boston, capturing the spirit of both the city and the sports world.
As you step into Fenway Park, you're not just entering a stadium – you're immersing yourself in over a century of tradition, passion, and excitement that continues to live on with each crack of the bat and roar of the crowd. Find Boston Red Sox Souvenirs, Gifts, and Memorabilia at Red Sox Network.
SHOP FENWAY PARK GIFTS

| Photo | Title | Price | Buy |
| --- | --- | --- | --- |
| | Fenway Park Sign Baseball Decoration Vintage Ballpark Decor Tin Signs Wall Art Plaque Sports Gift 6 x 18 High Gloss Metal 206180073001 | $24.95 | On Sale Now |
| | Chowdaheadz Fenway Sign T-shirt | $27.99 | On Sale Now |
| | Fenway Park Wall Art Fenway Picture Wall Decor Boston Baseball Stadium Canvas Print Massachusetts Poster Painting Framed Home Living Room Bedroom Decoration 5 Piece Ready to Hang(60''Wx32''H) | $61.99 | On Sale Now |
| | Chowdaheadz Fenway Sign Hoodie Gray | $47.99 | On Sale Now |
| | '47 MLB Dark Gray Clean Up Adjustable Hat Cap, Adult One Size (Boston Red Sox Dark Gray) | $36.99 | On Sale Now |
| | Sweet Caroline Dirty Water Fenway T-Shirt Military Green | $27.99 | On Sale Now |
| | Fenway Park Blueprint Style Print | $60.00 | On Sale Now |
| | Legends Never Die Fenway Park in 1912 Collectible | Framed Photo Collage Wall Art Decor - 12"x15" (11298U), Black | $34.74 | On Sale Now |
| | Fenway Park: Home of the Boston Red Sox (100th Anniversary Collector's Set) | $168.00 | On Sale Now |
| | ArtsyCanvas Fenway Park Green Monster - Baseball Field - 36x12 Matte Poster Print Wall Art | $28.99 | On Sale Now |
| | Fenway Park Green Monster - Baseball Field - 48x16 Gallery Wrapped Canvas Wall Art | $115.99 | On Sale Now |
Inns | Hotels | Resorts | Vacation Rentals

Real Estate | Products

Dining | Attractions | Business

History | Weather | Beaches

Fishing | Golfing | Towns

Art Galleries | Massachusetts Shopping
New England Living | New England Products
Free World Mall

Country Weddings | New England Recipes

Boston Red Sox Gifts | Travel Destinations