Hammond Castle Museum
Gloucester, MA Attractions – North Shore MA Region Attractions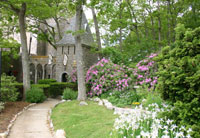 The North Shore or north of Boston area of Massachusetts is home to many of the state's most haunting attractions. In 1692, the infamous Salem witch hunt took place in Salem, Mass. Today, the mystique of those times is still in the air. The Salem Wax Museum of Witches & Seafarers will captivate you. The resemblances are so real, you're bound to be spooked for days. The Tsongas Arena, located in Lowell, MA, offers sporting events, concerts and family shows depending on the day.
Contact us to feature your Massachusetts attraction in MALiving – Massachusetts Internet Magazine. Learn more about advertising in MALiving.com.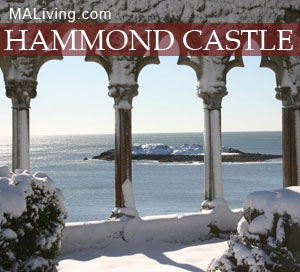 Experience a real life Medieval style castle right on the coastline of Gloucester, Massachusetts. Built in the late 1920′s, by one of America's most prolific inventors, Hammond Castle houses an impressive collection of Renaissance, Medieval and Roman artifacts. Whether you choose a self-guided tour, a prearranged tour or one of Hammond Castle's many educational programs, the architecture and views will be sure to light the imaginations of even the youngest of princes and princesses. Hammond Castle is open during February vacation week, and during spring, summer and fall.
Educational programs offered to groups visiting Hammond Castle Museum include a 90 minute tour focusing on life in medieval times, a tour focusing on the life of prolific inventor John Hammond, as led by Dr. John Hays Hammond Jr., and a home tour, which exposes the home life aspect of Hammond Castle. Hammond Castle is also available for weddings and private events. During his time, Dr. Hammond produced more than 400 patents and more than 800 invention ideas. It is said he was second only to Thomas Alva Edison in the number pf patents he secured throughout his life. His most noted legacy, besides Hammond Castle and the collections within it, is the development of remote control via radio waves. To this day, Dr. Hammond is often referred to as "the father of remote control".
inns | hotels | resorts | rentals | attractions | dining | real estate
Lenox, Northampton, Amherst, Holyoke, Springfield, Pittsfield, Stockbridge, Lee, Adams

Worcester, Brookfield, Fitchburg, Leominster, Southbridge, Sturbridge

Lawrence, Lowell, Salem, Beverly, Gloucester, Marblehead

Boston, Cambridge, Chelsea, Somerville

Brockton, Duxbury, Fall River, New Bedford, Taunton, Plymouth

Falmouth, Barnstable, Hyannis, Nantucket, Marthas Vineyard, Provincetown
Inns | Hotels | Resorts | Vacation Rentals

Real Estate | Products

Dining | Attractions | Business

History | Weather | Beaches

Fishing | Golfing | Towns

Art Galleries | Massachusetts Shopping
Free World Mall

Country Weddings | New England Recipes

Boston Red Sox Gifts | Travel Destinations