New England Pirate Museum
Salem, MA Attractions – North Shore MA Region Attractions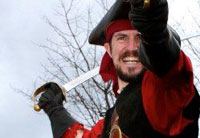 Get a taste of the pirate life at Salem's Pirate Museum, where you will explore treasure troves and meet over 60 buccaneers, discover artifacts and learn about the life of a pirate. This 20 to 30 minute walking tour will lead you through a dockside village, onto the deck of a pirate ship, and into an 80 foot bat cave filled with hidden treasure. The Pirate Museum offers many educational activities for all ages, from compass making and treasure map design to pirate vocabulary and ship log activities.
Contact us to feature your Massachusetts attraction in MALiving – Massachusetts Internet Magazine. Learn more about advertising in MALiving.com.
New England Pirate Museum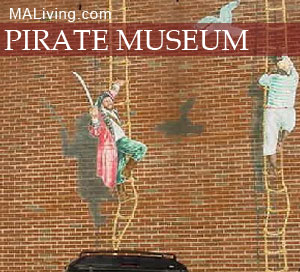 Located across the street from Salem's famous Pickering Wharf on the Heritage Trail, the New England Pirate Museum is a good day's adventure for all ages.The Pirate Museum is part of the Salem museum family that also in cludes the Witch Dungeon Museum and the Witch History Museum. When you attend the Pirate Museum, you will get to board a full-length pirate ship and view artifacts from New England's rich history of sea-faring pirates and sea-robbers. Learn about the misadventures of Captain Kidd, Belamy, Quelch, and Blackbeard, explore an 80 foot treasure cave, and learn why the North Shore of Massachusetts is often referred to as "The Gold Coast".
In addition to standard museum tours and pirate reinactments, the Pirate Museum also offers an educational curriculum for schools and teachers of all age groups. Children can learn to make their own compasses and treasure maps, learn pirate vocabulary, and learn about ship heirarchy. Pirate poetry, Pirate flags, pirate postcards and more are all available for the wee ones.
inns | hotels | resorts | rentals | attractions | dining | real estate
Lenox, Northampton, Amherst, Holyoke, Springfield, Pittsfield, Stockbridge, Lee, Adams

Worcester, Brookfield, Fitchburg, Leominster, Southbridge, Sturbridge

Lawrence, Lowell, Salem, Beverly, Gloucester, Marblehead

Boston, Cambridge, Chelsea, Somerville

Brockton, Duxbury, Fall River, New Bedford, Taunton, Plymouth

Falmouth, Barnstable, Hyannis, Nantucket, Marthas Vineyard, Provincetown
Inns | Hotels | Resorts | Vacation Rentals

Real Estate | Products

Dining | Attractions | Business

History | Weather | Beaches

Fishing | Golfing | Towns

Art Galleries | Massachusetts Shopping
Free World Mall

Country Weddings | New England Recipes

Boston Red Sox Gifts | Travel Destinations