North Shore MA Family Attractions
Massachusetts Attractions – North of Boston MA Region Attractions
The North Shore or north of the Boston area of Massachusetts is home to many of the state's most haunting attractions. In 1692, the infamous Salem witch hunt took place in Salem, Mass. Today, the mystique of those times is still in the air. The Salem Wax Museum of Witches & Seafarers will captivate you. The resemblances are so real, you're bound to be spooked for days. The Tsongas Arena, located in Lowell, MA, offers sporting events, concerts and family shows depending on the day.
Contact us to feature your Massachusetts attraction in MALiving – Massachusetts Internet Magazine. Learn more about advertising in MALiving.com.
North Shore Massachusetts Attractions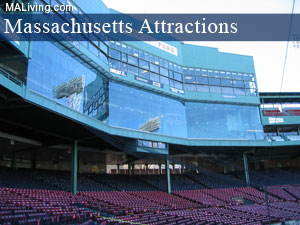 Salem Willows
171 Fort Ave.
Salem, MA 01970
Ph: 978 745-0251
Salem Willows is a seaside side park that offers arcades, rides, food and many more activities.
The Museum of Myths and Monsters
59 Wharf St.
Salem, MA 01970
Ph: 978-745-0303
A museum that showcases Greek, Viking and Egyptian mythical creatures.
Tsongas Arena
300 Martin Luther King Jr. Way
Lowell, MA 01852
Ph: 978 848-6900Tsongas Arena is the home to the Lowell Devils hockey team, it also hosts family events and concerts.
Salem Wax Museum of Witches & Seafarers
288 Derby St.
Salem, MA 01970
Ph: 978 740-2929
A museum that has life-size wax figures of the witches and characters that were a part of the famous Salem witch hunt.
Halibut Point State Park
Gott Ave.
Rockport, MA 01966
Ph: 978 546-2997
A coastal state park that offers beautiful views and stunning nature trails. This park is open year-round.
State of the Art Gallery & Sculpture Garden
4 Wonson St.
Gloucester, MA 01930
Ph: 978 395-1915
Local artwork and sculptures displayed in a scenic garden.
Wolf Hollow
114 Essex Rd.
Ipswich, MA 01938
Ph: 978-356-0216
Wolf Hollow offers a rare opportunity to view gray wolves in as natural a setting as possible.
The House of the Seven Gables
115 Derby St.
Salem, MA 01970
Ph: 978-744-0991
A house in Salem, MA with 7 gables, that was the inspiration for a book written by Nathaniel Hawthorne, The House of The Seven Gables. This house is now a museum that offers tours. This is the oldest surviving 17th-century wooden mansion in New England which was built in 1668.
New England Quilt Museum
18 Shattuck St.
Lowell, MA 01852
Ph: 978-452-4207
Preserves, celebrates, and interprets historic and contemporary American quilting.
Essex Shipbuilding Museum
66 Main St.
Essex, MA 01929
Ph: 978-768-7541
The Essex Shipbuilding Museum shares the story of a quaint New England village that built more two-masted wooden fishing schooners than any other place in the world.
inns | hotels | resorts | rentals | attractions | dining | real estate
Massachusetts Attractions by Region
Lenox, Northampton, Amherst, Holyoke, Springfield, Pittsfield, Stockbridge, Lee, Adams

Worcester, Brookfield, Fitchburg, Leominster, Southbridge, Sturbridge

Lawrence, Lowell, Salem, Beverly, Gloucester, Marblehead

Boston, Cambridge, Chelsea, Somerville

Brockton, Duxbury, Fall River, New Bedford, Taunton, Plymouth

Falmouth, Barnstable, Hyannis, Nantucket, Marthas Vineyard, Provincetown
Inns | Hotels | Resorts | Vacation Rentals

Real Estate | Products

Dining | Attractions | Business

History | Weather | Beaches

Fishing | Golfing | Towns

Art Galleries | Massachusetts Shopping
New England Living Magazine
Free World Mall

Country Weddings | New England Recipes

Boston Red Sox Gifts | Travel Destinations