South of Boston MA Family Attractions
Massachusetts Attractions – Southern MA Region Attractions
The region South of Boston is well noted for being the home of Plymouth Rock, where the Mayflower Pilgrims first reached shore from England in 1620. Visiting Plimoth Plantation is literally like taking a step back in time, as the staff members role-play and do not recognize anything that occurred past the year 1620. Battleship Cove located in Fall River, MA is a great way to explore how the old Battleships in 1942 looked and operated.
Contact us to feature your Massachusetts attraction in MALiving – Massachusetts Internet Magazine. Learn more about advertising in MALiving.com.
Southern Massachusetts Attractions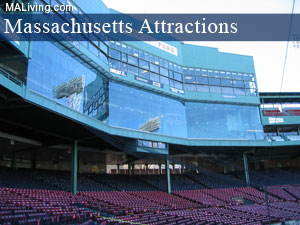 Adams National Historical Park
135 Adams St.
Quincy, MA 02169
Ph: 617-770-1175
The Adams National Historical Park tells the story of the generations of Adams and what their important roles were in the American Revolution.
Battleship Cove
Five Water St.
Fall River, MA 02722
Ph: 508-678-1100
The world's largest naval exhibit is here. Battleship Cove offers tours of the USS Massachusetts.
Plimoth Plantation
137 Warren Ave.
Plymouth, MA 02360
Ph: 508-746-1622
Plimoth Plantation is a living history museum of the 17th-century Plymouth Colony in Massachusetts.
Seekonk Speedway
1710 Fall River Ave.
Seekonk, MA 02771
Ph: 508-336-9959
A speedway that hosts stock car racing, monster truck derby's, motorcycle races, and much more.
Plymouth Rock
Water St.
Plymouth, MA 02360
Ph: 617-626-1250
The site where the Mayflower Pilgrims first stepped on to shore in 1620.
Plymouth Wax Museum
15 Carver St.
Plymouth, MA 02360
Ph: 508-746-6468
A museum that showcases life-size wax figures of the men, women, and children of the Mayflower Pilgrim colony.
New Bedford Fire Museum
Old Station No. 4
51 Bedford St.
New Bedford, MA 02740
Ph: 508-992-2162
New Bedford Fire Museum, previously Fire Station 4, was built in 1867 and now serves as a museum that features a collection of old fire fighting equipment and some old fire engines. Children of all ages can try on old uniforms and slide down the pole. Old city fire records dating to 1890 are available for research.
inns | hotels | resorts | rentals | attractions | dining | real estate
Massachusetts Attractions by Region
Lenox, Northampton, Amherst, Holyoke, Springfield, Pittsfield, Stockbridge, Lee, Adams

Worcester, Brookfield, Fitchburg, Leominster, Southbridge, Sturbridge

Lawrence, Lowell, Salem, Beverly, Gloucester, Marblehead

Boston, Cambridge, Chelsea, Somerville

Brockton, Duxbury, Fall River, New Bedford, Taunton, Plymouth

Falmouth, Barnstable, Hyannis, Nantucket, Marthas Vineyard, Provincetown
Inns | Hotels | Resorts | Vacation Rentals

Real Estate | Products

Dining | Attractions | Business

History | Weather | Beaches

Fishing | Golfing | Towns

Art Galleries | Massachusetts Shopping
New England Living Magazine
Free World Mall

Country Weddings | New England Recipes

Boston Red Sox Gifts | Travel Destinations