Berkshires Massachusetts Camping
Worthington, Pittsfield, Otic, Shelburne, Lancaster, Southwick Mass. Campgrounds and Camping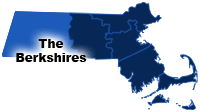 The Berkshires region in western Massachusetts is a wonderland for camping.
Western Massachusetts offers beautiful lakes for fishing, swimming, kayaking, and canoeing. The Berkshires mountain range allows for hikers of all abilities the chance to bask in its breathtaking views and natural beauty. Browse our list of recommended Western Massachusetts area campgrounds.
If you would like to feature your Berkshires area campground in this list please contact us. Learn more about advertising in MALiving.com.
Berkshires County Massachusetts Camping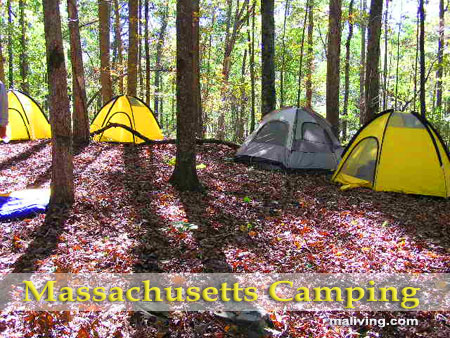 Berkshire Park Camping Area
350 Harvey Rd.
Worthington, MA 01098
Ph: 413-238-5918
Bonnie Brae Cabins & Campsites
108 Broadway St.
Pittsfield, MA 01201
Ph: 413-442-3754
Camp Overflow
700 Tolland Rd.
Otis, MA 01253
Ph: 413-269-4036
Country Aire Campground
1753 Mohawk Trail
Shelburne, MA 01370
Ph: 413-625-2996
Fernwood Forest Campground
350 Longview Ave.
Hinsdale, MA 01235
Ph: 413-655-2292.
Hidden Valley Campground
15 Scott Rd.
Lanesboro, MA 01237
Ph: 413-447-9419
Laurel Ridge Camping Area
40 Old Blandford Rd.
East Otis, MA 01029
Ph: 413-269-4804
Mohawk Park
559 Tea St. Rt. 2 Mohawk Trail
Charlemont, MA 01339
Ph: 413-339-4470
Mountain View Campground
1856 South Main St.
Otis, MA 01253
Ph: 413-269-8928
Peppermint Park Camping Resort
169 Grant St.
Plainfield, MA 01070
Ph: 413-634-5385
Prospect Lake Park
Prospect Lake Rd.
N. Egremont, MA 02152
Ph: 413-528-4158
Shady Pines Campground
547 Loop Rd.
Savoy, MA 01256
Ph: 413-743-2694
Summit Hill Campground
34 Old Middlefield Rd.
Washington, MA. 01223
Ph: 413-623-5761
Walker Island Camping
Rte. 20
Chester, MA 01011
Ph: 413-354-2295
Barton Cove Campground
99 Millers Falls Rd.
Northfield, MA 01360
Ph: 413-863-9300
Partridge Hollow Campground
72 Sutcliff Rd
Monson, MA 01057
Ph: 413-267-5122
Prospect Mountain Campground
1349 Main Rd.
Granville, MA 01034
Ph: 413-357-6494
Sodom Mountain Campground
233 South Loomis St.
Southwick, MA 01077
Ph: 413-569-3930
Southwick Acres Campground
256 College Hwy.
Southwick, MA 01077
Ph: 413-569-6339
Sunset View Farm Camping Area
57 Town Farm Rd.
Monson, MA 01057
Ph: 413-267-9269
Traveler's Woods of New England
152 River St.
Bernardston, MA 01337
Ph: 413-648-9105
Wagon Wheel Campground
909 Wendell Rd.
Warwick, MA 01378
Ph: 978-544-8120
White Birch Campground
214 North St.
Whately, MA 01093
Ph: 413-665-4941
inns | hotels | resorts | rentals | attractions | dining | real estate
Massachusetts Campgrounds & RV Parks by Region
Lenox, Northampton, Amherst, Holyoke, Springfield, Pittsfield, Stockbridge, Lee, Adams

Worcester, Brookfield, Fitchburg, Leominster, Southbridge, Sturbridge

Lawrence, Lowell, Salem, Beverly, Gloucester, Marblehead

Boston, Cambridge, Chelsea, Somerville

Brockton, Duxbury, Fall River, New Bedford, Taunton, Plymouth

Falmouth, Barnstable, Hyannis, Nantucket, Marthas Vineyard, Provincetown
Inns | Hotels | Resorts | Vacation Rentals

Real Estate | Products

Dining | Attractions | Business

History | Weather | Beaches

Fishing | Golfing | Towns

Art Galleries | Massachusetts Shopping
New England Living | New England Campgrounds
Free World Mall

Country Weddings | New England Recipes

Boston Red Sox Gifts | Travel Destinations