Massachusetts Fall Foliage
Mass. Current Fall Foliage Reports, Peaks, FAQs, Tips, Driving Tours
Welcome to the Massachusetts Fall Foliage Guide, an informative guide to Massachusetts' most popular fall foliage driving tours and events. Massachusetts offers some of the most beautiful fall foliage in the United States. Do you have questions about the best time to schedule your Massachusetts fall foliage tour, or do you want to know how to guarantee foliage season accommodations? Check out our Fall Foliage FAQ's. Don't forget to check out our Fall Foliage Tips page as well. Remember to book your Massachusetts Lodging Accommodations early – making sure you have a guaranteed reservation before arrival. When booking your New England foliage vacation, plan to visit during mid-week periods to avoid excessive crowds, and plan an extended stay so you can enjoy all that Massachusetts has to offer! Ask us about visiting Massachusetts or share comments. To feature your MA business, contact us.
MA Fall Foliage Vacations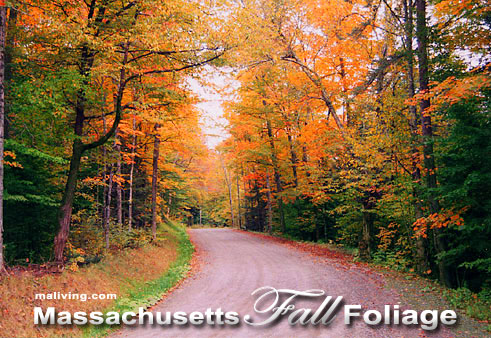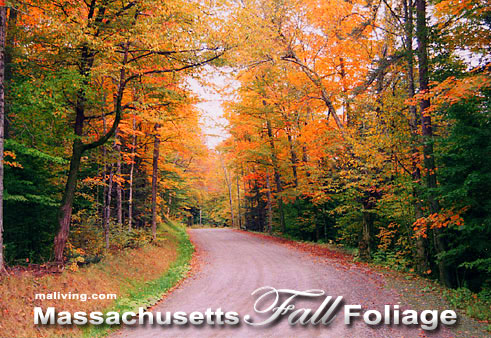 THE BERKSHIRES
Follow Route 7 North from
Sheffield
to
Williamstown
. Route 8 runs from
Sandisfield
to
Dalton
and is a superb route between two Massachusetts state forests. Route 183, from
Great Barrington
to
Lenox
follows the Housatonic River and passes through several small villages. Take Richmond Road, off Route 183, just south of Tanglewood, and stop at the overlook for stunning views of Stockbridge Bowl and the southern Berkshire Hills. Route 43 East, off Route 7, is the lower road to
Williamstown
, and passes through lovely farmland. Route 23, from
Great Barrington
to
Monterey
, and then right onto Tyringham Road, takes you through the
Tyringham
Valley and eventually to
Lee
.
CENTRAL MASS
Enjoy superb color at a relaxed pace when you drive along the less frequently traveled routes to the Quabbin Reservoir: From Route 128, follow Route 117 to
Stow
, in the heart of Massachusetts apple country, then take Route 62 South and West to
Princeton
. Turn north on the unnumbered route to Wachusett Mountain Reservation. There you can drive, hike or take a "skyride" to the summit for a sweeping view of the countryside. Return to Route 62 and head west to
Barre
, then south on Route 32 to Old Furnace Road. Follow the unnumbered road west to
Hardwick
. Turn north on Route 32A, which runs along the Quabbin Reservoir to
Petersham
. At Petersham follow Route 101 East through
Templeton
,
Gardner
and the
Ashburnhams
to the junction with Route 119. Head east on Route 119 through the
Willard Brook State Forest
,
Ashby
and
Townsend
.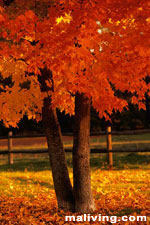 NORTH SHORE
Route 133 is a gorgeous drive that winds along charming country back roads and the picture-perfect New England towns of Essex, Ipswich, Rowley and Georgetown. Route 1A from Beverly to Newburyport travels through beautiful open spaces and farmlands via Ipswich, which boasts more pre-1725 houses still standing than any other town in the USA. Route 127 winds along the coast through Beverly, Manchester By-the-Sea, Gloucester and up to Rockport.
GREATER BOSTON
From Boston, take Routes 2 and 4 to Lexington, then follow Route 2A to Concord's famous North Bridge and Minute Man statue. From Concord Center, bear left at the fork on Sudbury Road. At the Sudbury town line, the road becomes Concord Road and takes you through Sudbury Center and onto U.S. Route 20. Return via U.S. Route 20 through Waltham to Boston.
SOUTHERN MASS
Just south of Boston, pick up Route 24 South, then follow Route 104 to Bridgewater. Continue on Route 104, then Route 106 to Halifax. Route 58 South will take you to North Carver, where you'll see cranberry bogs flooded with pools of crimson berries as the harvest gets underway. From North Carver, continue south on Route 58 to Route 28 East, then to Route 6 West and the towns of Wareham, Rochester, Marion and Mattapoisett.
CAPE COD & THE ISLANDS
From the Sagamore Bridge, take Route 6A, also known as the "Old King's Highway," which winds through the historic villages of Sandwich, Barnstable, Yarmouth, Dennis and Brewster.
Inns | Hotels | Resorts | Vacation Rentals

Real Estate | Products

Dining | Attractions | Business

History | Weather | Beaches

Fishing | Golfing | Towns

Art Galleries | Massachusetts Shopping
New England Living Magazine
Free World Mall

Country Weddings | New England Recipes

Boston Red Sox Gifts | Travel Destinations