Massachusetts Fall Foliage FAQs
Mass. Fall Foliage Tips, FAQ's, Reports, Peaks
Welcome to the Massachusetts Fall Foliage Guide, an informative guide to Massachusetts' most popular fall foliage driving tours and events. Massachusetts offers some of the most beautiful fall foliage in the United States. Be sure to check out Fall Foliage Tips page.
Read our Massachusetts Fall Foliage Current Report.
Massachusetts Fall Foliage FAQs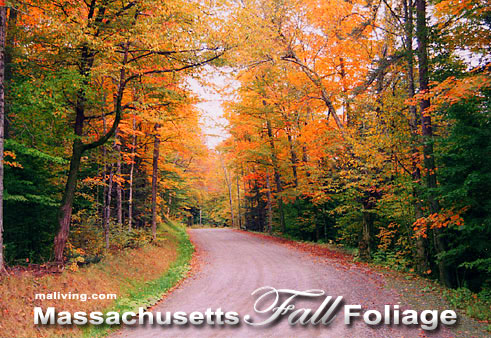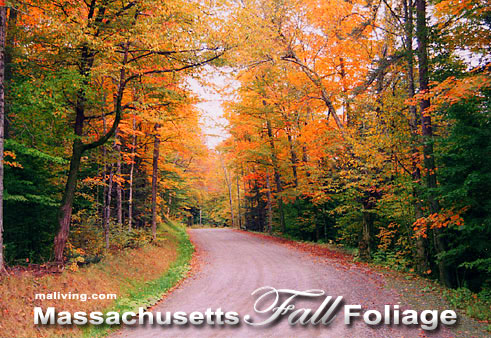 What makes leaves change color?
Chlorophyll is a pigment found in green plants.  Chlorophyll cells use light energy to synthesize carbohydrates from carbon dioxide and water – a process called photosynthesis which makes plants grow.  As the days get shorter, the decrease in daylight reduces the energy needed for photosynthesis to occur.  As the chlorophyll content in the leaves diminishes, other pigments become more dominant.
A yellow leaf indicates that the carotenoid pigment is dominant.  Beech and Aspen leaves will be bright gold or yellow, while Oaks and Maples will turn red and purple due to sugar accumulating during photosynthesis due to the substance known as phloem becoming inactive.
When does the foliage season begin?
Due to the weather variables, it is nearly impossible to accurately predict exactly when the leaves will start turning color.  The northern areas of Massachusetts will begin sooner than the southern areas, due to warm afternoons followed by cool evenings.  However, an over-abundance of rain and wind or an extreme heat wave and drought, will effect the overall timing and vibrancy of Massachusetts foliage season.
How long does the foliage season last?
The foliage season generally lasts about three weeks.  Weather plays the key role in determining the length of the season.  Warm, sunny days followed by cool nights are the best conditions for a long season.  Once the leaves have changed, a hard rain or strong wind can end the season abruptly.
How can I be assured of accommodations during foliage season?
The only sure way to guaranty that you have a place to stay is to start your search early.  Many visitors reserve their next year's accommodations as they depart during this year's visit.  Again, one cannot be sure of the exact color-change timing, so this method can be disappointing if your dates are too early or too late.  It is best to start your inquiry in the Spring, asking for availability during the dates you have in mind.  By mid-Summer, your innkeeper will have a little better feel of what to expect, and may be able to adjust the dates of your visit accordingly.  Rest assured that by August first, most accommodations in all regions of Massachusetts will be reserved during the last week of September and first week of October, often through Columbus Day weekend.
One thing is for sure – every hotel, motel, inn, bed and breakfast, and even most campgrounds, will be sold out during Massachusetts foliage season.  If you have not made advance reservations, you may still be able to acquire midweek accommodations – which some folks believe is the best time to visit due to the reduced traffic and waiting lines at attractions.
When is the best time to visit Vermont during foliage season?
Without a doubt, the best fall foliage experience will be found during midweek visits.  Lodging choices will be far greater, and small villages found along back roads offer quaint midweek venues such as church suppers and flea markets.  Restaurants and attractions stay open later during foliage season, so your activity options are not limited during midweek visits.  And, traffic, attractions, shopping, and sight seeing is much more enjoyable without the crowds.
Back to the Massachusetts Fall Foliage Main Page.
Inns | Hotels | Resorts | Vacation Rentals

Real Estate | Products

Dining | Attractions | Business

History | Weather | Beaches

Fishing | Golfing | Towns

Art Galleries | Massachusetts Shopping
New England Fall Foliage Reports
VT Foliage Reports | NH Foliage Reports | ME Foliage Reports | CT Foliage Report
Free World Mall

Country Weddings | New England Recipes

Boston Red Sox Gifts | Travel Destinations