Berkshires Massachusetts Golfing
Amherst, Lenox, Barrington Mass. Golf Courses, Golf Resorts, Country Clubs and Golf Vacations

You will find a wide variety of golf courses to choose from while spending time in The Berkshires region of Massachusetts.
There are golf courses in Western Massachusetts that will fit the needs of golfers of every ability. Many of these scenic Berkshire courses were designed by famous golf architects such as Donald Ross and Geoffrey S. Cornish. During New England fall foliage season, the color of the trees against the lush green fairways make the scenery on a Berkshire golf course one of a kind.
Let us know about your favorite Western Massachusetts golf course by contacting us. Learn more about advertising in MALiving.com.
Berkshires Region Massachusetts Golfing Guide

Golf Course

Telephone

Holes

Yards Public/Private

Par

Agawam Municipal Golf Course
128 Southwick St.
Feeding Hills, MA 01030

413-786-2194

18

6099 Public

71

Bas Ridge Golf Course
151 Plunkett St.
Hinsdale, MA 01235

413-655-2605

18

5051 Public

70

Cherry Hill Golf Course
32 Montague Rd.
North Amherst, MA 01059

413-256-4071

9

2470 Public

36

Chicopee Country Club
1290 Burnett Rd.
Chicopee, MA 01013

413-594-9295

18

6109 Public

71

Cranwell Resort
55 Lee Rd.
Lenox, MA 01240

413-637-2563

18

6000 Public

70

East Mountain Country Club
1458 East Mountain Rd.
Westfield, MA 01085

413-568-1539

18

5819 Public

71

Edge Hill Golf Course
298 Barnes Rd.
Ashfield, MA 01370

413-625-6018

9

6050 Public

72

Edgewood Golf Course
161 Sheep Pasture Rd.
Southwick, MA 01077

413 569-6826

18

6045
Public

71

Hampden Country Club
128 Wilbraham Rd.
Hampden, MA 01036

413-566-8010

18

6349
Public

72

Oak Ridge Golf Course
850 South Westfield St.
Feeding Hills, MA 01030

413-789-7307

18

5711
Public

70

Pine Grove Golf Course
254 Old Wilson Rd.
Northampton, MA 01060

413- 584-4570

18

6115
Public

72

Pontoosuc Lake Country Club
38 Kickwood Dr.
Pittsfield, MA 01201

413-445-4217

18

6207
Public

70

Scottish Meadow Golf Course
361 Little Rest Rd.
Warren, MA 01083

413-436-5108

18

6236
Public

Tekoa Country Club
459 Russell Rd.
Westfield, MA 01085

413-568-1064

18

6020
Public

71

Waubeeka Golf Course
137 New Ashford Rd.
Williamstown, MA 01267

413-458-8355

18

6024
Public

72

Berkshire Hills Country Club
Pittsfield, MA 01201

413-447-9429

18

6316
Public

72

Country Club of Pittsfield
639 South St.
Pittsfield, MA 01201

413-447-8500

18

6095
Private

71

Crestview Country Club
280 Shoemaker Lane
Agawam, MA 01001

413-786-0917

18

6297
Private

72

Longmeadow Country Club
400 Shaker Rd.
Longmeadow, MA 01106

413-567-8412

18

6268
Private

70

Ludlow Country Club
Tony Mema Dr.
Ludlow, MA 01056

413-583-3434

18

6201
Private

72

Northampton Country Club
135 Main St.
Leeds, MA 01053

413-586-1898

9

5672
Private

35

Orchards Golf Course
18 Silverwood Ter.
South Hadley, MA 01075

413-533-4653

18

6217
Private

71

Stockbridge Golf Course
Main Street
Stockbridge, MA 01262

413-298-3423

18

6294
Private

71

Wyantenuck Country Club
West Sheffield Rd.
Great Barrington, MA 01230

413-528-3229

18

6056
Private

70

Wyckoff Country Club
233 Easthampton Rd.
Holyoke, MA 01040

413-536-3602

18

5273
Private

69
inns | hotels | resorts | rentals | attractions | dining | real estate
Massachusetts Golf Courses & Golf Resorts by Region
Lenox, Northampton, Amherst, Holyoke, Springfield, Pittsfield, Stockbridge, Lee, Adams

Worcester, Brookfield, Fitchburg, Leominster, Southbridge, Sturbridge

Lawrence, Lowell, Salem, Beverly, Gloucester, Marblehead

Boston, Cambridge, Chelsea, Somerville

Brockton, Duxbury, Fall River, New Bedford, Taunton, Plymouth

Falmouth, Barnstable, Hyannis, Nantucket, Marthas Vineyard, Provincetown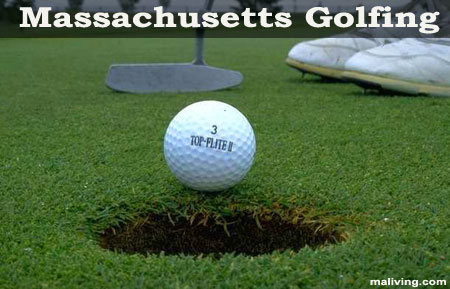 Inns | Hotels | Resorts | Vacation Rentals

Real Estate | Products

Dining | Attractions | Business

History | Weather | Beaches

Fishing | Golfing | Towns

Art Galleries | Massachusetts Shopping
New England Living Magazine | New England Golf Resorts
Free World Mall

Country Weddings | New England Recipes

Boston Red Sox Gifts | Travel Destinations