Cape Cod Massachusetts Golfing
Falmouth, Yarmouth, Sandwich Mass. Golf Courses, Golf Resorts, Country Clubs and Golf Vacations

The game of golf has been agreed upon by the Scots to be best played in weather in which land meets sea. This is why playing golf on Cape Cod will make you feel like your playing in Scotland without having to actually go there.
The Cape had seven golf courses built by 1900, the year that started the golfing trend in this region. The first golf course on Cape Cod, Highland Links, was built in 1892 and was designed by Donald Ross. Playing on this Massachusetts golf course is like going back in time to when golfers wore knickers and played on rough terrain. Today, there are over 50 different courses for golfers of every ability to choose from, making the Cape a golfers' paradise.
Let us know about your favorite Cape Cod, Massachusetts region golf course by contacting us. Learn more about advertising in MALiving.com.
Cape Cod Massachusetts Region Golfing Guide

Ballymeade Country Club
125 Falmouth Woods Rd.
North Falmouth, MA 02556

508-540-4005

18

6928 Public

72

Bass River Golf Course
62 High Bank Rd.
South Yarmouth, MA 02664

508-398-9079

18

6129 Public

72

Bayberry Hills Golf
West Yarmouth Rd. South
West Yarmouth, MA 02673

508-394-5597

18

7172 Public

72

Bay Pointe Country Club
19 Bay Pointe Dr.
Onset Beach, MA 02558

508-759-8802

18

6300 Public

70

Blue Rock Golf Course
48 Todd Rd.
South Yarmouth, MA 02664

508-398-9295

18

3000 Public

54

The Brookside Club
11 Brigadoon Rd.
Bourne, MA 02532

508-743-4653

18

6300 Public

70

Cape Cod Country Club
48 Theater Dr.
Falmouth, MA 02536

508-563-9842

18

6404 Public

71

Captains Golf Course (Port)
1000 Freeman's Way
Brewster, MA 02631

508-896-1716

18

6724 Public

72

Captains Golf Course (Starboard)
1000 Freeman's Way
Brewster, MA 02631

508-896-1716

18

6776 Public

72

Chequessett Yacht & Country Club
680 Chequessett Neck Rd.
Wellfleet, MA 02667

508-349-3704

18

5200 Semi-Private

70

Cranberry Valley Golf Course
183 Oak St.
Harwich, MA 02645

508-430-7560

18

6761 Public

72

Dennis Highlands Golf Course
825 Old Bass River Rd.
Dennis, MA 02638

508-385-8347

18

6500 Public

71

Falmouth Country Club
630 Carriage Shop Rd.
East Falmouth, MA 02536

508-548-3211

27

6665 Public

72

Highland Links Golf Course
10 Highland Lighthouse Rd., 2390 Easton Tpke
North Truro, MA 02652

508-487-9201

9

2720 Public

70

Olde Barnstable Fairgrounds Golf Course Course
Route 149
Marstons Mills, MA 02648

508-420-1142

18

6479 Public

71

Sandwich Hollows Golf Club
1 Round Hill Rd.
East Sandwich, MA 02537

508-888-3384

18

6307 Public

71

Squirrel Run Golf & Country Club
Carver Rd.
Plymouth, MA 02360

508-746-5001

18

2859 Public

54

Pinehills Golf Club
54 Clubhouse Dr.
Plymouth, MA 02360

508-209-3000

36

7175 Public

72

Miacomet Golf Club
12 W Miacomet Ave.
Nantucket, MA 02554

508-548-3211

18

6890 Public

72

Mink Meadows Golf Course
320 Golf Club Rd.
Vineyard Haven, MA 02568

508-693-0600

3078 Semi-Private

70

Cape Cod National Golf Club
174 S Orleans Rd.
Brewster, MA 02631

508-240-6800

18

6954 Private

72

Hyannisport Club
Irving Ave.
Hyannisport, MA 02647

508-775-2978

18

6257 Private

71

Pocasset Golf Club
Clubhouse Dr.
Pocasset, MA 02559

508-563-7171

18

6427 Private

72

Cummaquid Golf Club
35 Marstons Lane
Yarmouth Port, MA 02675

508-362-2022

18

6300 Private

71

The Club at Yarmouthport, Kings Way Golf Course
64 King's Circuit
Yarmouth Port, MA 02675

508-362-4505

18

4023 Private

60

Nantucket Golf Club
250 Milestone Road
Nantucket, MA 02554

508-257-8500

18

7081 Private

72

Farm Neck Golf Club
1 Farm Neck Way
Oak Bluffs, MA 02557

508-693-3057

18

6807 Public

72

Edgartown Golf Club
71 Curtis Lane
Edgartown, MA 02539

508-627-5343

9

2847 Private

36

Vineyard Golf Club
100 Club House Ln.
Edgartown, MA 02539

508-627-8930

18

7044 Private

72
inns | hotels | resorts | rentals | attractions | dining | real estate
Massachusetts Golf Courses & Golf Resorts by Region
Lenox, Northampton, Amherst, Holyoke, Springfield, Pittsfield, Stockbridge, Lee, Adams

Worcester, Brookfield, Fitchburg, Leominster, Southbridge, Sturbridge

Lawrence, Lowell, Salem, Beverly, Gloucester, Marblehead

Boston, Cambridge, Chelsea, Somerville

Brockton, Duxbury, Fall River, New Bedford, Taunton, Plymouth

Falmouth, Barnstable, Hyannis, Nantucket, Marthas Vineyard, Provincetown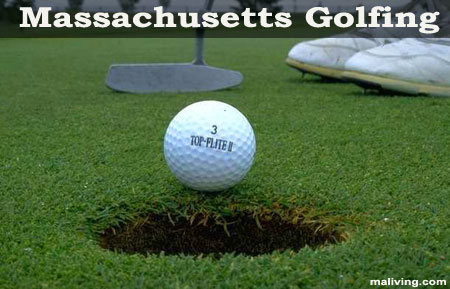 Inns | Hotels | Resorts | Vacation Rentals

Real Estate | Products

Dining | Attractions | Business

History | Weather | Beaches

Fishing | Golfing | Towns

Art Galleries | Massachusetts Shopping
New England Living Magazine | New England Golf Resorts
Free World Mall

Country Weddings | New England Recipes

Boston Red Sox Gifts | Travel Destinations