Central Massachusetts Golfing
Rutland, Millbury, Athol Mass. Golf Courses, Golf Resorts, Country Clubs and Golf Vacations

Central Massachusetts is a wonderful place to find beginner-friendly golf courses, as well as challenging courses for the more experienced golfer.
There is an element of pride to the Central Massachusetts golfer, as you will find that the fairways and greens in this area are extremely well cared for. There are a number of golf tournaments offered in and around the Worcester, Massachusetts area. One such event is The 34th Annual Premier Golf Open, which takes place at the Marlborough Country Club every May.
Let us know about your favorite Central, Massachusetts region golf course by contacting us. Learn more about advertising in MALiving.com.
Central Massachusetts Region Golfing Guide

Golf Course

Telephone

Holes

Yards
Public/Private

Par

Ellinwood Country Club
1928 Pleasant St.
Athol, MA 01368

978-249-7460

18

5800 Public

71

Pakachoag Golf Course
15 Upland St.
Auburn, MA 01501

508-755-3291

9

3255 Public

36

Maplegate Country Club
160 Maple St.
Bellingham, MA 02019

508-394-5597

18

6432 Public

72

ColdBrook Country Club
864 Old Coldbrook Rd.
Barre, MA 01005

978-355-2090

9

Public

27

Bedrock Golf Club
87 Barre Paxton Rd.
Rutland, MA 01543

508-886-0202

9

3463 Public

36

Templewood Golf Course

160 Brooks Rd.
Templeton, MA 01468

978-939-5031

18

6067 Public

70

Gardner Municipal Golf Course
152 Eaton St.
Gardner, MA 01440

978-632-9703

18

6106 Public

71

Petersham Country Club
240 North Main St.
Petersham, MA 01388

978-724-3388

9

3084 Public

36

Kettle Brook Golf Club
136 Marshall St.
Paxton, MA 01612

508-799-4653

18

6912 Public

72

Holden Hills Country Club
1800 N Main Street
Jefferson, MA 01522

508-829-3129

18

6088 Public

71

Westminster Country Club
51 Ellis Rd.
Westminster, MA 01473

978-874-2988

18

6491 Public

71

Clearview Country Club
66 Park Hill Ave.
Millbury, MA 01527

508-754-5654

9

2724 Public

71

Blissful Meadows Golf Club
801 Chockalog Rd.
Uxbridge, MA 01569

508-278-6110

18

6700 Public

72

Pine Ridge Country Club
28 Pleasant St.
North Oxford, MA 01537

508-892-9188

18

6002 Public

71

Bay Path Golf Course
193 N. Brookfield Rd.
East Brookfield, MA 01515

508-867-8161

9

2700 Public

36

Leicester Country Club
1430 Main St.
Leicester, MA 01524

508-892-1390

18

6026 Public

70
inns | hotels | resorts | rentals | attractions | dining | real estate
Massachusetts Golf Courses & Golf Resorts by Region
Lenox, Northampton, Amherst, Holyoke, Springfield, Pittsfield, Stockbridge, Lee, Adams

Worcester, Brookfield, Fitchburg, Leominster, Southbridge, Sturbridge

Lawrence, Lowell, Salem, Beverly, Gloucester, Marblehead

Boston, Cambridge, Chelsea, Somerville

Brockton, Duxbury, Fall River, New Bedford, Taunton, Plymouth

Falmouth, Barnstable, Hyannis, Nantucket, Marthas Vineyard, Provincetown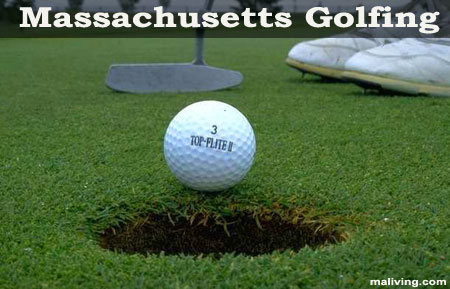 Inns | Hotels | Resorts | Vacation Rentals

Real Estate | Products

Dining | Attractions | Business

History | Weather | Beaches

Fishing | Golfing | Towns

Art Galleries | Massachusetts Shopping
New England Living Magazine | New England Golf Resorts
Free World Mall

Country Weddings | New England Recipes

Boston Red Sox Gifts | Travel Destinations