King Richard's Renaissance Faire
Carver, Massachusetts Annual Autumn Event
Each fall, the small town of Carver, Mass encourages thousands of visitors to pass through the king's gates and step back in time to the 16th century. Held for approximately seven weeks each year from early September to late October, King Richard's Renaissance Faire has been in operation since the early 1980's and is New England's largest and longest-running renaissance fair.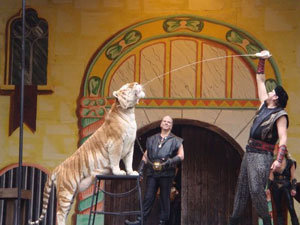 Attending King Richard's Faire is quite a treat. It is spread across 80 acres of New England forest, offers many permanent structures, and features eight unique performance stages. You will be entertained by dancers, puppeteers, acrobats, magicians, jugglers, and musicians as you wander the grounds. Explore the work of hundreds of artisans, taste authentic renaissance food, and be entertained by the king's knights jousting on horseback.
In addition to scheduled stage performances, you will be delighted to discover many wandering performers – from stilt walkers to fire eaters – as well as patrons dressed in traditional garb. Watch glassblowers and blacksmiths work their trade, visit a psychic for a reading, get your face painted, and have your hand at one of the many games of prowess offered at King Richard's Faire. Don't forget to try one of the ridiculously huge turkey legs available at the food booth.
One of the highlights of King Richard's Faire is the Royal Zoo, which features white Siberian tigers, snow leopards, and many other large cats, including a Liger. Each weekend throughout the duration of the fair, different events are scheduled. Many competitions also occur, including the Knights of the Round Table contest, the Prince & Princess Costume Contest, and the Every King Needs a Queen contest. Daily events include the opening ceremony and the parade of royalty.
King Richard's Renaissance Faire
235 Main Street
Carver, MA 02330
508-866-5391
www.kingrichardsfaire.net
Inns | Hotels | Resorts | Vacation Rentals

Real Estate | Products

Dining | Attractions | Business

History | Weather | Beaches

Fishing | Golfing | Towns

Art Galleries | Massachusetts Shopping
Free World Mall

Country Weddings | New England Recipes

Boston Red Sox Gifts | Travel Destinations