Cape Cod Massachusetts Lighthouses
Chatham Light, Bass River Light, Nauset Light, Long Point Light, Hyannis Harbor Light

Visit a Cape Cod Lighthouse. The dense amount of lighthouses found in the Cape Cod area of Massachusetts is unparalleled. Massachusetts lighthouses on Martha's Vineyard and Nantucket Island are located in some of the most beautiful settings – near beaches, on rock bluffs, and surrounded by Atlantic ocean views. Some Cape Cod lighthouses are not open to the public. Ask us about visiting Massachusetts or share comments. To feature your MA business, contact us.
MA Lighthouses: Cape Cod Lighthouse Guide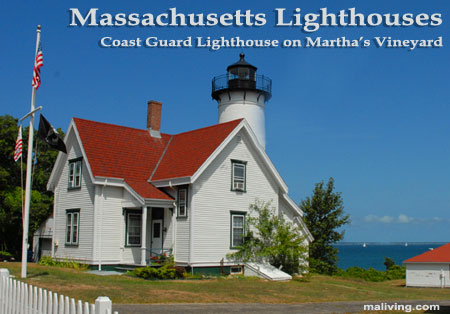 Race Point Light
Provincetown
: the tower was built in 1876, and is made from cast iron with a brick lining. This 45-foot tower is still active and accommodations are available.
Wood End Light
Provincetown: at 39 feet tall the tower was made from brick. Not open to the public this tower is located at the entrance to Provincetown Harbor.
Long Point Light
Provincetown: located near both Cape Cod Bay and Provincetown Harbor the 38 foot tall lighthouse is still active. Made from brick the tower is not open to the public.
Highland Light (Cape Cod Light)
North Truro: located on the Cape Cod National Seashore, this 66 foot tall lighthouse was built in 1857. The grounds are open for visiting year round, while the lighthouse is only open during the warmest months.
Nauset Light
Eastham: the tower was actually constructed in Chatham, MA in 1877 then moved to Eastham in 1923. Made from cast iron with a brick lining the 48 foot tall tower is still active.
Bass River Light
West Dennis: the 44 foot tall tower was built in 1855. Deactivated from 1914 to 1989 the tower was relit 1989.
Stage Harbor Light
Chatham: this lighthouse is owned privately and is not open to the public. Made from cast iron and reaching 48 feet in height the tower can be viewed from Harding's Beach.
Chatham Light
Chatham: located on Chatham Harbor the 48 foot tall lighthouse was built in 1877. Tours are available.
Monomoy Point Light
Chatham: built in 1849 this tower was made with iron and a brick lining. Ferry trips are available to view the 40 foot tower.
Point Gammon Light
Yarmouth: located at the entrance to Hyannis Harbor this tower is made from stone. Privately owned, the tower is not open to the public and neither is the land surrounding it.
Hyannis Harbor Light
Barnstable: located in Hyannis Harbor this lighthouse is privately owned. Built in 1849 from brick the best views of the tower are from Keyes Beach.
Nobska Point Light
Woods Hole: located at the entrance to Woods Hole Harbor this lighthouse is 40 feet tall. Made from cast iron and brick some of the original buildings surrounding the tower still stand.
inns | hotels | resorts | rentals | attractions | dining | real estate
LIGHTHOUSE GIFTS

Massachusetts Lighthouses by Region
Lawrence, Lowell, Salem, Beverly, Gloucester, Marblehead

Boston, Cambridge, Chelsea, Somerville

Brockton, Duxbury, Fall River, New Bedford, Taunton, Plymouth

Falmouth, Barnstable, Hyannis, Nantucket, Marthas Vineyard, Provincetown
Inns | Hotels | Resorts | Vacation Rentals

Real Estate | Products

Dining | Attractions | Business

History | Weather | Beaches

Fishing | Golfing | Towns

Art Galleries | Massachusetts Shopping
Free World Mall

Country Weddings | New England Recipes

Boston Red Sox Gifts | Travel Destinations