North Shore Massachusetts Lighthouses
Marblehead Light, Baker's Island Light, Annisquam Light, Plus Island Light, East Point Light, Egg Rock Light
Come discover the history of the North Shore and Gloucester MA lighthouses, which are placed on some of the most beautiful settings – near beaches, on rock bluffs, or just surrounded by beautiful ocean views. The Gloucester area of Massachusetts has been known for its large commercial fishing area, so don't miss the opportunity to see some beautiful harbors. Some lighthouses are not open to the public, so make sure to research which lighthouses you plan to visit beforehand. Although some are closed, their beauty can still be enjoyed from a distance. To feature your MA business, contact us.
Popular Massachusetts Attractions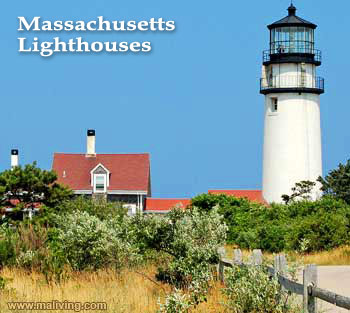 Newburyport Harbor Range Lights
Newburyport:
This lighthouse was established in 1837 and deactivated in 1961. There are two lighthouses on this spot, one larger than the other, both constructed from wood and brick.
Plum Island Light
Newburyport:the lighthouse was built in 1898 and made exclusively from wood. Standing at 35 feet tall, this lighthouse is still in use.
Annisquam Light
Gloucester: located on the north end of the Annisquam River and Ipswich Bay this lighthouse was built in 1897. Made from brick the tower stands at 41 feet.
Straitsmouth Island Light
Rockport: located on Straitsmouth Island, the lighthouse was built in 1896. Still active, the lighthouse stands at 37 feet.
Thacher Island Twin Lights
Rockport: Both of these towers were constructed of granite and are popular tourist attractions.
East Point Light
Gloucester: Standing at 36 feet tall this tower was made exclusively out of brick. The lighthouse is not open to the public, though you can walk around the outside.
Ten Pound Island Light
Gloucester:Built in 1881, this lighthouse is best seen from the water. Standing at 30 feet tall this lighthouse is still active.
Baker's Island Light
Salem: a still active lighthouse built in 1820 was made entirely from granite.
Hospital Point Light
Beverly: located on the main channel to Salem Harbor, this lighthouse was made from brick with a granite foundation. Built in 1872 this lighthouse is still active.
Fort Pickering Light
Salem: located on the north side of the entrance to Salem Harbor was built in 1871. This lighthouse is made from cast iron with brick lining and a concrete foundation.
Derby Wharf Light
Salem: built in 1871 out of brick the lighthouse is not open to the public.
Marblehead Light
Marblehead: open by special arrangement only, this lighthouse was built in 1896. Still active today.
Egg Rock Light
Nahant: located near Lynn Beach north of Boston Harbor. The lighthouse was rebuilt in 1898 and is 32 feet tall.
inns | hotels | resorts | rentals | attractions | dining | real estate
LIGHTHOUSE GIFTS

Massachusetts Lighthouses by Region
Lawrence, Lowell, Salem, Beverly, Gloucester, Marblehead

Boston, Cambridge, Chelsea, Somerville

Brockton, Duxbury, Fall River, New Bedford, Taunton, Plymouth

Falmouth, Barnstable, Hyannis, Nantucket, Marthas Vineyard, Provincetown
Inns | Hotels | Resorts | Vacation Rentals

Real Estate | Products

Dining | Attractions | Business

History | Weather | Beaches

Fishing | Golfing | Towns

Art Galleries | Massachusetts Shopping
Free World Mall

Country Weddings | New England Recipes
Masschusetts Inns | Red Sox Gifts | Travel Destinations