Massachusetts Part Planning Tips
Good Ideas for a Better Party

Having a Holiday party, Birthday party, Going away party, Anniversary Bash, Solstice, or New Years Party Celebration? Here are a few party tips and ideas to help make your next party a smashing success!If you have updated information about Massachusetts events, or would like to feaure your Massachusetts hotspot in MALiving.com, please contact us. Learn more about advertising in MALiving.com.

Massachusetts Party Planning Tips & Tricks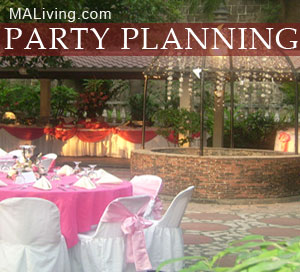 Holiday parties and family gatherings can be a source of stress, especially during the holiday season. So take a new approach and make your party a success by following a few helpful hints and suggestions.
Have a plan and follow it: Making a game plan of how many, where, and when, can help bring it all together quickly. Do this far enough in advance so that you can prepare in stages instead of rushing and stressing. Be organized and have a weekly list of duties that you need to accomplish.
Select a theme and invitation style, either ones that you can design yourself online or can order online (link to vista print) with a rapid turnaround time. Often times when you order online, your envelopes are included, and you can order matching return address labels. This saves time and can also save money.
When you're ready to address and send, remember the rule of invitations is 4 weeks before your event. However, if this is a busy time of year, six weeks will make your turnout a bit higher.
What to serve is always a key. Are you hiring a caterer, having a potluck, or doing it all yourself? Hors d'oeuvres, dinner, finger food? Make a decision and stick to it. Hors d'oeuvres and finger food should be placed throughout the party venue so people will mingle. Sauces and dips should be placed in areas that have easy clean up. Unless you are having a sit down meal, there should always be fewer chairs than people.
Remember if you are doing this yourself or are having a potluck, this is a busy time of year. Choose foods that can be made ahead and frozen. This is more convenient for you and also for people you are asking to contribute.
What about beverages? Are you providing alcohol or non-alcoholic beverages? Is this BYOB? (Remember to include this on your invitation.) Are you considering a punch bowl? Whatever the case you will need what is deemed bar set-ups — sliced fruit, mixers, ice, ice and more ice. Have more than enough instead of less than enough. Many people remember the alcohol and forget the soda and juice. Having extra non-alcoholic mixers on hand will also encourage people to limit their drinking. Remember, you are responsible for the safety of your guests, so do not encourage excessive drinking.
Create a festive party atmosphere with decorations, scents and music. Use scented candles or simmer a pot of water with cinnamon and citrus fruit to fill the house with a delightful aroma. Choose your favorite music and have it playing softly in the background when guests arrive. Consider unplugging or removing your television if it's located in the party area. Nothing spoils the interaction of guests quicker than a group of people huddled around a television set.
Think of all the smaller details. Do you have people who smoke? You need to set up an area in or outside for these people. Have extra toilet paper, hand lotion and Kleenex in the rest room. Use a small lamp or large night light to help people locate the correct room.
Try to make provisions for parking in advance. If you will be allowing guests to park on the lawn or in the back yard, let them know in your invitation. Ask your neighbors about parking options or warn them that guests will be parking on the street.
Accidents are part of life. Don't let an accident or spill ruin the party. Make sure that you have spot rug cleaner and paper towels handy. Also cocktail napkins and coasters will help protect your furniture.
Now that the work is done, relax! Let your guests enjoy themselves. With the proper ingredients in place everyone should have a great time. With good food, good cheer and good friends, you can't miss!
For some excellent party cakes, hors d'oeuvres and many more free and easy recipes visit www.newenglandrecipes.com.
Inns | Hotels | Resorts | Vacation Rentals

Real Estate | Products

Dining | Attractions | Business

History | Weather | Beaches

Fishing | Golfing | Towns

Art Galleries | Massachusetts Shopping
Free World Mall

Country Weddings | New England Recipes

Boston Red Sox Gifts | Travel Destinations