Ashburnham, Massachusetts 01430
Ashburnham, MA Business Real Estate Lodging History
Ashburnham, Massachusetts is home to the village of South Ashburnham, which holds approximately one-sixth of the population of Ashburnham. This North Shore town is located an hour from Boston and only thirty minutes from Worcester.
Residential and scenic, Ashburnham offers many hiking trails, lakes, and rivers for a variety of outdoor activities. Ashburnham is also home to Mount Watatic, a 1,852-foot mountain and popular hiking destination, which features two summits with incredible views.
Share Ashburnham, Mass. information or feature your business, contact us.
Settled: 1736
Incorporated: 1765
County: Worcester
Ashburnham, MA Population:
2008: 5,974
2000: 5,546
1990: 5,433
Ashburnham, MA Chamber of Commerce
North Central Massachusetts Chamber of Commerce
860 South Street
Fitchburg, MA 01420
Ph: 978-353-7600
Fax: 978-353-4896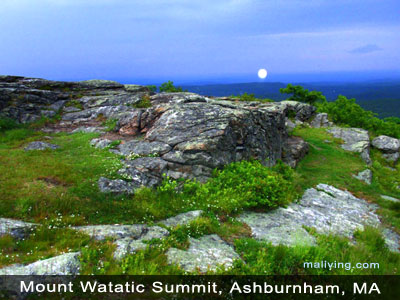 inns | hotels | resorts | rentals | attractions | dining | real estate
ASHBURNHAM MA GIFTS

Inns | Hotels | Resorts | Vacation Rentals

Real Estate | Products

Dining | Attractions | Business

History | Weather | Beaches

Fishing | Golfing | Towns

Art Galleries | Massachusetts Shopping
Free World Mall

Country Weddings | New England Recipes

Boston Red Sox Gifts | Travel Destinations