Brewster, MA 02631
Brewster, MA Business Real Estate Lodging History
There are many things to do on Cape Cod during the summer. Brewster, being one of the larger Cape towns, is no exception. Because of Brewster's great location on the edge of the Atlantic Ocean, it offers seven different public beaches. Paine's Creek Beach, Mant's Landing, Saint's Landing, Breakwater Beach, Ellis Landing, Linnell Landing, and Crosby Landing are all located in Brewster, Massachusetts. There are also two freshwater ponds with public access; Long Pond and Sheep Pond.
Besides swimming in the ocean, there are many other wonderful things to do in Brewster. One favorite local activity is biking the Cape Cod Rail Trail, approximately twenty-five miles of paved biking or walking trails that run through the heart of Brewster and continue out through Cape Cod. Brewster Nickerson State Park also offers bike trails, though unpaved, camping, and picnicking areas.
Share Brewster, Mass. information or feature your business, contact us.
Settled: 1656
Incorporated: 1803
County: Barnstable
Brewster, MA Population:
2008: 9,936
2000: 10,094
1990: 8,440
inns | hotels | resorts | rentals | attractions | dining | real estate
BREWSTER MA GIFTS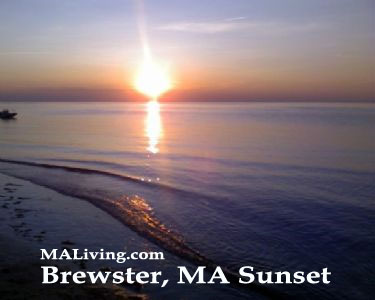 Inns | Hotels | Resorts | Vacation Rentals

Real Estate | Products

Dining | Attractions | Business

History | Weather | Beaches

Fishing | Golfing | Towns

Art Galleries | Massachusetts Shopping
Free World Mall

Country Weddings | New England Recipes

Boston Red Sox Gifts | Travel Destinations