Carver, Massachusetts 02330
Carver, Mass. Town Travel Business Information
The community of Carver, Massachusetts is located halfway between Boston, Massachusetts and Providence, Rhode Island. Carver was named after John Carver, the first Governor of Plymouth County. Like many Massachusetts towns, Carver is a rural community that was originally based on an agricultural economy.

Carver has an abundance of cranberry bogs, limiting the town's ability to really expand and grow. However, the residents don't mind. In the 1940's, their cranberry harvest was the largest in the world. It remains a major industry for Carver today. This small town enjoys weekends from Labor Day until Columbus Day by offering medieval fair days, complete with royalty and jousting. King Richard's Renaissance Faire has been going strong for over 25 seasons and draws countless attendees each year.

To share any Carver, Mass. information with us, please contact us. Learn more about advertising in MALiving.com.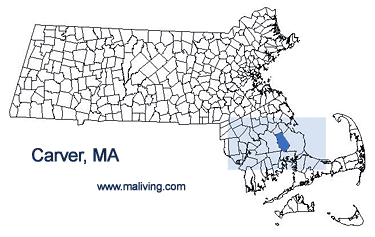 Settled: 1660
Incorporated: 1790
County: Plymouth
Carver, MA Population:
2008: 11,574
2000: 11,163
1990: 10,590
Cranberry Country Chamber of Commerce
40-48 N. Main Street, PO Box 409
Middleborough, MA 02346
Ph: 508-947-1499
Fax: 508-947-1446
inns | hotels | resorts | rentals | attractions | dining | real estate
Lenox, Northampton, Amherst, Holyoke, Springfield, Pittsfield, Stockbridge, Lee, Adams

Worcester, Brookfield, Fitchburg, Leominster, Southbridge, Sturbridge

Lawrence, Lowell, Salem, Beverly, Gloucester, Marblehead

Boston, Cambridge, Chelsea, Somerville

Brockton, Duxbury, Fall River, New Bedford, Taunton, Plymouth

Falmouth, Barnstable, Hyannis, Nantucket, Marthas Vineyard, Provincetown
Carver, MA Living Resources

Carver, MA Airports
Carver, MA Art Galleries
Carver, MA Autos
Carver, MA Camping
Carver, MA Golfing
Carver, MA Microreweries
Carver, MA Shopping
Carver, MA Theaters
Carver, MA Antiques
Carver, MA Attorneys
Carver, MA Classifieds
Carver, MA Hiking
Carver, MA Inns
Carver, MA Museums
Carver, MA Skiing
Carver, MA Weather
Carver, MA Apple Orchards
Carver, MA Attractions
Carver, MA Beaches
Carver, MA Dining
Carver, MA Hotels
Carver, MA Radio Stations
Carver, MA State Parks
Inns | Hotels | Resorts | Vacation Rentals

Real Estate | Products

Dining | Attractions | Business

History | Weather | Beaches

Fishing | Golfing | Photos

Art Galleries | Massachusetts Shopping