Charlton, Massachusetts 01507 – 01509
Charlton, Mass. Town Travel Business Information
The community of Charlton is located 20 miles from Worcester, Massachusetts and 50 miles from both Springfield and Boston. Charlton, Mass is located off of Interstate 90 East/West, making travel within Massachusetts very convenient.

Charlton, Massachusetts has much to offer history buffs. Be sure to check out he Charlton Center Historic District, Northside Village Historic District, the John Spurr House, and Rider Tavern. The Rider Tavern was built 1797 and is open for tours during the summer months.

To share any Charlton, Mass. information with us, please contact us. Learn more about advertising in MALiving.com.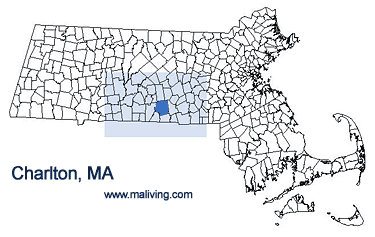 Settled: 1735
Incorporated: 1775
County: Worcester
Charlton, MA Population:
2008: 12,585
2000: 11,263
1990: 9,576
Charlton Massachusetts Chamber of Commerce
Tri-Community Chamber of Commerce
380 Main Street
Sturbridge, MA 01566
Ph: 508-347-2761
inns | hotels | resorts | rentals | attractions | dining | real estate
Lenox, Northampton, Amherst, Holyoke, Springfield, Pittsfield, Stockbridge, Lee, Adams

Worcester, Brookfield, Fitchburg, Leominster, Southbridge, Sturbridge

Lawrence, Lowell, Salem, Beverly, Gloucester, Marblehead

Boston, Cambridge, Chelsea, Somerville

Brockton, Duxbury, Fall River, New Bedford, Taunton, Plymouth

Falmouth, Barnstable, Hyannis, Nantucket, Marthas Vineyard, Provincetown
Charlton, MA Living Resources

Charlton, MA Airports
Charlton, MA Art Galleries
Charlton, MA Autos
Charlton, MA Camping
Charlton, MA Golfing
Charlton, MA Microreweries
Charlton, MA Shopping
Charlton, MA Theaters
Charlton, MA Antiques
Charlton, MA Attorneys
Charlton, MA Inns
Charlton, MA Classifieds
Charlton, MA Hiking
Charlton, MA Museums
Charlton, MA Skiing
Charlton, MA Weather
Charlton, MA Apple Orchards
Charlton, MA Attractions
Charlton, MA Beaches
Charlton, MA Dining
Charlton, MA Hotels
Charlton, MA Radio Stations
Charlton, MA State Parks
Inns | Hotels | Resorts | Vacation Rentals

Real Estate | Products

Dining | Attractions | Business

History | Weather | Beaches

Fishing | Golfing | Photos

Art Galleries | Massachusetts Shopping