Chicopee, Massachusetts 01013, 01020, 01021
Chicopee, Mass. Town Travel Business Information
Chicopee, Massachusetts is nicknamed "Crossroads of New England" because of the four highways that run through the city; Interstates 90, 91, 291 and 391. These roads provide access to major cities in the surrounding states. Chicopee is home to Elms College, a four-year, Catholic liberal arts college. The city of Chicopee, Mass rests on the banks of the Connecticut River and is part of the greater Springfield metropolitan area.

Chicopee is separated into five different villages or neighborhoods; Aldenville, Willimansett, Chicopee Center, Chicopee Falls, and Fairview. These neighborhoods were once very distinctively separated by culture, but today they are all compiled of many different types of cultural diversity. The most popular recreational area in the city is Chicopee Memorial State Park. The entire park encompasses 575 acres and includes two swimming and fishing ponds. Jogging and biking, as well as picnicking, are very common activities at the park.

To share any Chicopee, Mass. information with us, please contact us. Learn more about advertising in MALiving.com.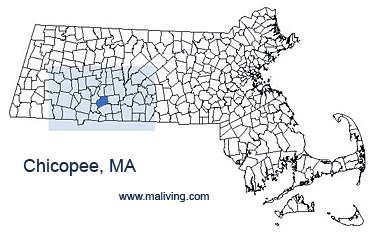 Settled: 1640
Incorporated: 1848
County: Hampden
Chicopee, MA Population:
2008: 54,941
2000: 54,653
1990: 56,632
Chicopee, MA Chamber of Commerce
264 Exchange Street
Chicopee, MA 01013
Ph: 413-594-2101
Fax: 413-594-2103
inns | hotels | resorts | rentals | attractions | dining | real estate
Lenox, Northampton, Amherst, Holyoke, Springfield, Pittsfield, Stockbridge, Lee, Adams

Worcester, Brookfield, Fitchburg, Leominster, Southbridge, Sturbridge

Lawrence, Lowell, Salem, Beverly, Gloucester, Marblehead

Boston, Cambridge, Chelsea, Somerville

Brockton, Duxbury, Fall River, New Bedford, Taunton, Plymouth

Falmouth, Barnstable, Hyannis, Nantucket, Marthas Vineyard, Provincetown
Chicopee, MA Living Resources

Chicopee, MA Airports
Chicopee, MA Art Galleries
Chicopee, MA Autos
Chicopee, MA Camping
Chicopee, MA Golfing
Chicopee, MA Microreweries
Chicopee, MA Shopping
Chicopee, MA Theaters
Chicopee, MA Antiques
Chicopee, MA Attorneys
Chicopee, MA Inns
Chicopee, MA Classifieds
Chicopee, MA Hiking
Chicopee, MA Museums
Chicopee, MA Skiing
Chicopee, MA Weather
Chicopee, MA Apple Orchards
Chicopee, MA Attractions
Chicopee, MA Beaches
Chicopee, MA Dining
Chicopee, MA Hotels
Chicopee, MA Radio Stations
Chicopee, MA State Parks
Inns | Hotels | Resorts | Vacation Rentals

Real Estate | Products

Dining | Attractions | Business

History | Weather | Beaches

Fishing | Golfing | Photos

Art Galleries | Massachusetts Shopping
Free World Mall

Country Weddings | New England Recipes
Masschusetts Inns | Red Sox Gifts | Travel Destinations