Hanson, Massachusetts 02341
Hanson, Mass. Town Travel Business Information
Primarily comprised of wetlands, Hanson, Massachusetts is 18 miles from Boston. Dominated by bodies of water, some of Hanson's largest ponds include; Oldham Pond, Indian Head Pond, Maquan Pond, Wampatuck Pond and the Monponsett Twin Lakes.
Ocean Spray, the first producers of cranberry juice, was started in Hanson bogs in 1930 and continues to be one of the largest cranberry juice producers in the country. While Hanson is mostly residential at this point, some farming, cranberry and otherwise, continues.

To share any Hanson, Mass. information with us, please contact us. Learn more about advertising in MALiving.com.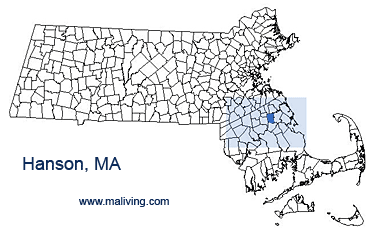 Settled: 1632
Incorporated: 1823
County: Plymouth
Hanson, MA Population:
2008: 10,019
2000: 9,495
1990: 9,028
Hanson, MA Chamber of Commerce
Metro South Chamber of Commerce
60 School Street
Brockton, MA 02301
Ph: 508-586-0500
Fax: 508-587-1340
inns | hotels | resorts | rentals | attractions | dining | real estate
Lenox, Northampton, Amherst, Holyoke, Springfield, Pittsfield, Stockbridge, Lee, Adams

Worcester, Brookfield, Fitchburg, Leominster, Southbridge, Sturbridge

Lawrence, Lowell, Salem, Beverly, Gloucester, Marblehead

Boston, Cambridge, Chelsea, Somerville

Brockton, Duxbury, Fall River, New Bedford, Taunton, Plymouth

Falmouth, Barnstable, Hyannis, Nantucket, Marthas Vineyard, Provincetown
Hanson, MA Living Resources

Hanson, MA Airports
Hanson, MA Art Galleries
Hanson, MA Autos
Hanson, MA Camping
Hanson, MA Golfing
Hanson, MA Microreweries
Hanson, MA Shopping
Hanson, MA Theaters
Hanson, MA Antiques
Hanson, MA Attorneys
Hanson, MA Classifieds
Hanson, MA Hiking
Hanson, MA Inns
Hanson, MA Museums
Hanson, MA Skiing
Hanson, MA Weather
Hanson, MA Apple Orchards
Hanson, MA Attractions
Hanson, MA Beaches
Hanson, MA Dining
Hanson, MA Hotels
Hanson, MA Radio Stations
Hanson, MA State Parks
Inns | Hotels | Resorts | Vacation Rentals

Real Estate | Products

Dining | Attractions | Business

History | Weather | Beaches

Fishing | Golfing | Towns

Art Galleries | Massachusetts Shopping
Free World Mall

Country Weddings | New England Recipes

Boston Red Sox Gifts | Travel Destinations