Hingham, Massachusetts 02043
Hingham, MA Business Real Estate Lodging History
The community of Hingham, Massachusetts is only 15 miles from Boston. The northern border of Hingham touches the Boston Harbor at Hingham Bay.
When Eleanor Roosevelt visited the town of Hingham, she praised its main street as the most beautiful in America.
Today's Main Street is just as beautiful, showing off its eighteenth and nineteenth-century homes. Within Hingham, there are gated communities, golf courses, and private clubs. Hingham, Massachusetts has a strong base in American history, but in recent years has become more developed. With its close proximity to Boston and its high-quality public education system, Hingham is a desirable residential location.
Before it was deemed a natural conservation site, World's End Park, an area on the Brewer's Peninsula, was proposed to be the seat of the United Nations, and later to be a nuclear power plant.
Share Hingham, Mass. information or feature your business, contact us.
Settled: 1633
Incorporated: 1635
County: Plymouth
Hingham, MA Population:
2008: 22,561
2000: 19,882
1990: 19,821
inns | hotels | resorts | rentals | attractions | dining | real estate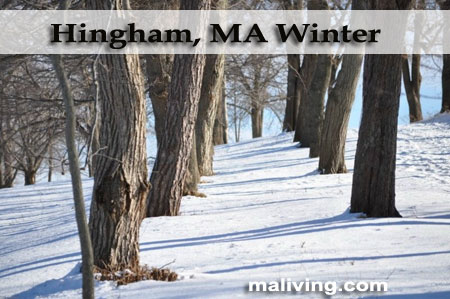 HINGHAM MA GIFTS

Inns | Hotels | Resorts | Vacation Rentals

Real Estate | Products

Dining | Attractions | Business

History | Weather | Beaches

Fishing | Golfing | Towns

Art Galleries | Massachusetts Shopping
Free World Mall

Country Weddings | New England Recipes

Boston Red Sox Gifts | Travel Destinations