Holyoke, Massachusetts 01040
Holyoke, MA Business Lodging Vacations History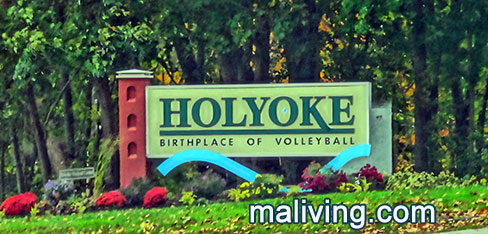 The community of Holyoke is part of the Greater Springfield, Massachusetts Metropolitan Statistical Area, and is located only nine miles from the center of Springfield.
Nicknamed 'The Paper City', Holyoke, Massachusetts was at one point home to more than 25 different paper mills. In 2007, the American Pad & Paper Company was one of the largest suppliers of office products in the world. Over the past few years, Holyoke has been diversifying their economic base. The Holyoke Mall is one of the largest shopping centers in Massachusetts.
Holyoke is known as the Birthplace of Volleyball.
Exploring Holyoke, Massachusetts: A Rich Tapestry of History, Neighborhoods, and Vibrant Living
Nestled in the Pioneer Valley of western Massachusetts, Holyoke is a city that boasts a captivating history, diverse neighborhoods, and a range of attractions. From its early industrial roots to its present-day revival, Holyoke offers residents and visitors a unique blend of old-world charm and modern conveniences. Let's explore its neighborhoods and regions, discuss real estate housing options, highlight notable historic sites and attractions, and provide insights into what it's like to live in Holyoke, MA.
History of Holyoke:
Early Industrial Development:
Holyoke's history dates back to the early 19th century when the area was primarily agricultural. The construction of the Holyoke Dam in 1848, harnessing the power of the Connecticut River, transformed the region into a leading industrial hub for textile manufacturing. The city flourished with the establishment of numerous mills, attracting immigrants seeking employment and shaping the diverse cultural fabric of Holyoke.
Decline and Revitalization:
In the mid-20th century, Holyoke faced economic challenges due to the decline of the textile industry. However, recent years have witnessed a renaissance, with efforts focused on revitalizing the city's downtown area and promoting a vibrant arts and cultural scene. Today, Holyoke stands as a testament to the resilience of its community and the city's commitment to progress.
Holyoke Neighborhoods, Villages, and Regions:
Downtown Holyoke:
The heart of the city, downtown Holyoke, showcases a mix of historic architecture, modern developments, and cultural amenities. It serves as a vibrant hub for arts, dining, and entertainment, with a variety of galleries, restaurants, and theaters.
Churchill:
Located on the city's northeast side, Churchill is a predominantly residential neighborhood known for its tree-lined streets, charming homes, and a strong sense of community. It offers a mix of single-family houses and multi-unit dwellings, making it an attractive area for families and young professionals.
Elmwood:
Situated to the south of downtown, Elmwood is a diverse neighborhood characterized by its tight-knit community and Victorian-style houses. With parks, schools, and local businesses, Elmwood provides a comfortable living environment for residents.
Ingleside:
Nestled along the western border of Holyoke, Ingleside is known for its suburban feel and spacious properties. The neighborhood offers a mix of housing options, from historic homes to modern developments, and is favored by families seeking a quieter residential setting.
Real Estate Housing Options:
Holyoke provides a range of housing options to suit various preferences and budgets. Prospective residents can find everything from Victorian-era homes with ornate details to contemporary apartments and condominiums. The city's diverse neighborhoods offer an array of choices, allowing individuals to select the housing style that best suits their needs.
Holyoke Attractions:
Holyoke Heritage State Park:
221 Appleton Street
Holyoke, Massachusetts 01040
Situated along the canal system that powered the city's mills, Holyoke Heritage State Park offers picturesque views, walking trails, and a visitor center that delves into the region's industrial past. Free Parking is available.
Wistariahurst Museum:
Housed in an elegant mansion, the Wistariahurst Museum showcases the city's rich history and hosts cultural events, exhibits, and educational programs.
Mount Tom State Reservation:
Outdoor enthusiasts can explore the scenic beauty of Mount Tom State Reservation, which features hiking trails, picnic areas, and breathtaking views of the Connecticut River Valley.
Holyoke Merry-Go-Round:
A beloved attraction for families, the Holyoke Merry-Go-Round offers nostalgic charm with its hand-carved horses and organ music, delighting visitors of all ages. The Holyoke Merry-Go-Round is located at Holyoke Heritage State Park.
Holyoke, MA Living:
Living in Holyoke provides a unique blend of urban amenities and a close-knit community feel. The city offers a variety of educational institutions, including Holyoke Community College, and residents enjoy easy access to shopping centers, parks, and cultural events. The ongoing revitalization efforts, coupled with affordable housing options, make Holyoke an attractive place to call home.
Holyoke, Massachusetts, is a city with a rich history, diverse neighborhoods, and a vibrant community. From its industrial roots to its modern-day revival, Holyoke offers a unique mix of old-world charm and contemporary living. With its historic sites, cultural attractions, and affordable housing options, Holyoke provides a welcoming and fulfilling lifestyle for residents and an intriguing destination for visitors seeking to explore the city's past and present.
Share Holyoke, Mass. information or feature your business, contact us.

D Hotel Suites & Spa, 1 Country Club Road, Holyoke, MA 01040 | 413-533-2100
A boutique hotel featuring cozy decor and modern amenities in the heart of Western Massachusetts. Host an event? We are a premier venue for weddings, meetings & events. Connect with one of our planning professionals. Our goal is to provide you with the best experience possible.
Stay at the D Hotel Suites & Spa
---

Cape Cod Soap Company, Wellfleet, MA 02667 | 508-241-4887
Keep Calm and Lather Up with Cape Cod Soap Company's cocoa butter soaps and body butters. Handmade and handcrafted using complete care and creativity while making products that soothes your skin keeping it youthful and invigorated. Cocoa butter is widely accepted as an anti wrinkle agent, and coconut oil being one of our most coveted beauty secrets in the world, it is antibacterial, and naturally hydrating for the skin. Order online or call today.
Visit Cape Cod Soap Company - Wellfleet, MA
---
Holyoke MA Settled: 1745
Incorporated: 1850
County: Hampden
Holyoke, MA Population:
2008: 39,947
2000: 39,838
1990: 43,704
inns | hotels | resorts | rentals | attractions | dining | real estate
HOLYOKE MA GIFTS

Inns | Hotels | Resorts | Vacation Rentals

Real Estate | Products

Dining | Attractions | Business

History | Weather | Beaches

Fishing | Golfing | Towns

Art Galleries | Massachusetts Shopping
Free World Mall

Country Weddings | New England Recipes

Boston Red Sox Gifts | Travel Destinations