Holyoke, Massachusetts 01040
Holyoke, Mass. Town Travel Business Information
The community of Holyoke is part of the Greater Springfield, Massachusetts Metropolitan Statistical Area, and is located only nine miles from the center of Springfield. One of the first planned industrial communities in Massachusetts, Springfield has a neatly girded street system, making it easy to navigate. Nicknamed 'The Paper City', Holyoke, Massachusetts was at one point home to more than 25 different paper mills. In 2007, the American Pad & Paper Company was one of the largest suppliers of office products in the world. Over the past few years, Holyoke has been trying to diversify their economic base. The Holyoke Mall has helped bring different jobs into town and is one of the largest shopping centers in Massachusetts.

D Hotel Suites & Spa, 1 Country Club Road, Holyoke, MA 01040 | 413-533-2100
A boutique hotel featuring cozy decor and modern amenities in the heart of Western Massachusetts. Host an event? We are a premier venue for weddings, meetings & events. Connect with one of our planning professionals. Our goal is to provide you with the best experience possible.
Stay at the D Hotel Suites & Spa
---

Cape Cod Soap Company, Wellfleet, MA 02667 | 508-241-4887
Keep Calm and Lather Up with Cape Cod Soap Company's cocoa butter soaps and body butters. Handmade and handcrafted using complete care and creativity while making products that soothes your skin keeping it youthful and invigorated. Cocoa butter is widely accepted as an anti wrinkle agent, and coconut oil being one of our most coveted beauty secrets in the world, it is antibacterial, and naturally hydrating for the skin. Order online or call today.
Visit Cape Cod Soap Company - Wellfleet, MA
---
To share any Holyoke, Mass. information with us, please contact us. Learn more about advertising in MALiving.com.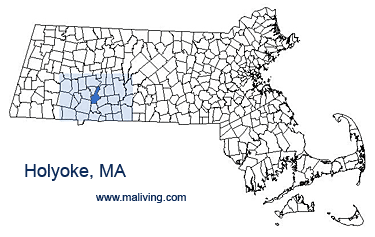 Settled: 1745
Incorporated: 1850
County: Hampden
Holyoke, MA Population:
2008: 39,947
2000: 39,838
1990: 43,704
inns | hotels | resorts | rentals | attractions | dining | real estate
Lenox, Northampton, Amherst, Holyoke, Springfield, Pittsfield, Stockbridge, Lee, Adams

Worcester, Brookfield, Fitchburg, Leominster, Southbridge, Sturbridge

Lawrence, Lowell, Salem, Beverly, Gloucester, Marblehead

Boston, Cambridge, Chelsea, Somerville

Brockton, Duxbury, Fall River, New Bedford, Taunton, Plymouth

Falmouth, Barnstable, Hyannis, Nantucket, Marthas Vineyard, Provincetown
Holyoke, MA Living Resources

Holyoke, MA Airports
Holyoke, MA Art Galleries
Holyoke, MA Autos
Holyoke, MA Camping
Holyoke, MA Golfing
Holyoke, MA Microreweries
Holyoke, MA Shopping
Holyoke, MA Theaters
Holyoke, MA Antiques
Holyoke, MA Attorneys
Holyoke, MA Inns
Holyoke, MA Classifieds
Holyoke, MA Hiking
Holyoke, MA Museums
Holyoke, MA Skiing
Holyoke, MA Weather
Holyoke, MA Apple Orchards
Holyoke, MA Attractions
Holyoke, MA Beaches
Holyoke, MA Dining
Holyoke, MA Hotels
Holyoke, MA Radio Stations
Holyoke, MA State Parks
Inns | Hotels | Resorts | Vacation Rentals

Real Estate | Products

Dining | Attractions | Business

History | Weather | Beaches

Fishing | Golfing | Photos

Art Galleries | Massachusetts Shopping