Lanesborough, Massachusetts 01237
Lanesborough, Mass. Town Travel Business Information
Lanesborough, Massachusetts shares a border with the city of Pittsfield and is 37 miles away from Albany, NY. Potter Mountain, of the Taconic Range separates Lanesborough from Hancock, MA to the west, while the Hoosac Mountains separate Lanesborough from Cheshire, MA to the east. Lanesborough's Mount Greylock features an auto road as well as a visitor's center.
Lanesborough itself has little industry; residents typically travel to neighboring towns for work. However, there are small restaurants and local businesses in the center of town. A historical marker in Lanesborough is the Old Stone School, an unusual one room schoolhouse made of stone, built in 1832.

To share any Lanesborough, Mass. information with us, please contact us. Learn more about advertising in MALiving.com.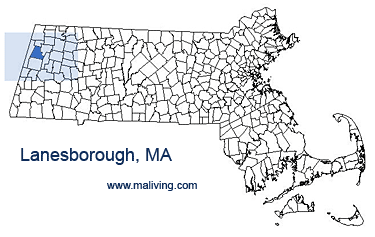 Settled: 1753
Incorporated: 1765
County: Berkshire
Lanesborough, MA Population:
2008: 2,866
2000: 2,990
1990: 3,032
inns | hotels | resorts | rentals | attractions | dining | real estate
Lenox, Northampton, Amherst, Holyoke, Springfield, Pittsfield, Stockbridge, Lee, Adams

Worcester, Brookfield, Fitchburg, Leominster, Southbridge, Sturbridge

Lawrence, Lowell, Salem, Beverly, Gloucester, Marblehead

Boston, Cambridge, Chelsea, Somerville

Brockton, Duxbury, Fall River, New Bedford, Taunton, Plymouth

Falmouth, Barnstable, Hyannis, Nantucket, Marthas Vineyard, Provincetown
Lanesborough, MA Living Resources

Lanesborough, MA Airports
Lanesborough, MA Art Galleries
Lanesborough, MA Autos
Lanesborough, MA Camping
Lanesborough, MA Golfing
Lanesborough, MA Microreweries
Lanesborough, MA Shopping
Lanesborough, MA Theaters
Lanesborough, MA Antiques
Lanesborough, MA Attorneys
Lanesborough, MA Inns
Lanesborough, MA Classifieds
Lanesborough, MA Hiking
Lanesborough, MA Museums
Lanesborough, MA Skiing
Lanesborough, MA Weather
Lanesborough, MA Apple Orchards
Lanesborough, MA Attractions
Lanesborough, MA Beaches
Lanesborough, MA Dining
Lanesborough, MA Hotels
Lanesborough, MA Radio Stations
Lanesborough, MA State Parks
Inns | Hotels | Resorts | Vacation Rentals | Real Estate | Products
Dining | Attractions | Business | History | Weather | Beaches
Fishing | Golfing | Photos | Art Galleries | Massachusetts Shopping