Lawrence, Massachusetts 01843
Lawrence, Mass. Town Travel Business Information
Lawrence, Massachusetts is located halfway between Boston and Manchester, NH. Lawrence became known as 'Immigrant City', due to the large amount of immigrants that came to Lawrence to work in the mills. Today, 35% of the local economy is based in manufacturing. Despite global trends, the city still holds some large companies, including New Balance, Malden Mills and KGR Inc.
Being a large urban community, Lawrence offers a vast amount of activities. The Essex Art Center, Lawrence Heritage State Park, Lawrence Experiment Station, and many other activities are available within the city of Lawrence.

To share any Lawrence Mass. information with us, please contact us. Learn more about advertising in MALiving.com.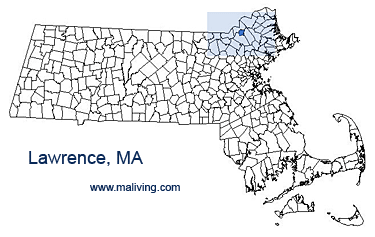 Settled: 1655
Incorporated: 1847
County: Essex
Lawrence, MA Population:
2008: 70,014
2000: 72,043
1990: 70,207
inns | hotels | resorts | rentals | attractions | dining | real estate
Lenox, Northampton, Amherst, Holyoke, Springfield, Pittsfield, Stockbridge, Lee, Adams

Worcester, Brookfield, Fitchburg, Leominster, Southbridge, Sturbridge

Lawrence, Lowell, Salem, Beverly, Gloucester, Marblehead

Boston, Cambridge, Chelsea, Somerville

Brockton, Duxbury, Fall River, New Bedford, Taunton, Plymouth

Falmouth, Barnstable, Hyannis, Nantucket, Marthas Vineyard, Provincetown
Lawrence, MA Living Resources

Lawrence, MA Airports
Lawrence, MA Art Galleries
Lawrence, MA Autos
Lawrence, MA Camping
Lawrence, MA Golfing
Lawrence, MA Microreweries
Lawrence, MA Shopping
Lawrence, MA Theaters
Lawrence, MA Antiques
Lawrence, MA Attorneys
Lawrence, MA Classifieds
Lawrence, MA Hiking
Lawrence, MA Inns
Lawrence, MA Museums
Lawrence, MA Skiing
Lawrence, MA Weather
Lawrence, MA Apple Orchards
Lawrence, MA Attractions
Lawrence, MA Beaches
Lawrence, MA Dining
Lawrence, MA Hotels
Lawrence, MA Radio Stations
Lawrence, MA State Parks
Inns | Hotels | Resorts | Vacation Rentals

Real Estate | Products

Dining | Attractions | Business

History | Weather | Beaches

Fishing | Golfing | Photos

Art Galleries | Massachusetts Shopping
Free World Mall

Country Weddings | New England Recipes
Masschusetts Inns | Red Sox Gifts | Travel Destinations