Lenox, Massachusetts 01240
Lenox, MA Business Vacations Real Estate History
Lenox, Massachusetts neighbors the city of Pittsfield. Lenox itself is divided into three sections; the Historical Village, North Lenox, and Lenox Dale. Lenox's Historical Village is in the center of town, North Lenox is where most of the shops can be found, and Lenox Dale is a largely residential district. Lenox itself is visitor-friendly, with many different lodging accommodations, restaurants, and shops to choose from.
Tanglewood is a large musical venue located on the Lenox – Stockbridge town line. Tanglewood is home to the annual summer Tanglewood Music Festival and Jazz Festival. Boston Symphony Orchestra has also made Tanglewood their summer home since 1937.
Share Lenox, Mass. information or feature your business, contact us.
Lenox, MA Settled: 1750
Incorporated: 1767
County: Berkshire
Lenox, MA Population:
2008: 5,095
2000: 5,077
1990: 5,069
Lenox, MA Chamber of Commerce
PO Box 646
Lenox, MA 01240-0646
Ph: 413-637-3646
Fax: 413-637-0041
inns | hotels | resorts | rentals | attractions | dining | real estate
LENOX MA GIFTS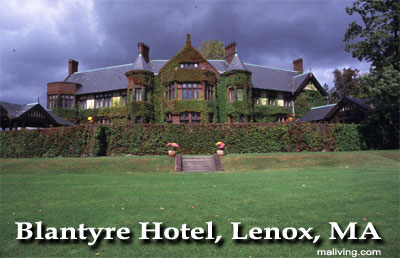 Inns | Hotels | Resorts | Vacation Rentals

Real Estate | Products

Dining | Attractions | Business

History | Weather | Beaches

Fishing | Golfing | Towns

Art Galleries | Massachusetts Shopping
Free World Mall

Country Weddings | New England Recipes

Boston Red Sox Gifts | Travel Destinations