Leominster, Massachusetts 01453
Leominster, MA Business Real Estate Vacations History
The community of Leominster is located on the Nashua River in Central Massachusetts. Leominster and neighboring Fitchburg are commonly known as twin cities because of their similar population and history of the shared industry.
A major contributor to the Underground Railroad, Leominster is full of history and charm. Leominster is also home to the famous Johnny Apple Seed.
Share Leominster, Mass. information or feature your business, contact us.
Settled: 1653
Incorporated: 1740
County: Worcester
Leominster, MA Population:
2008: 41,055
2000: 41,303
1990: 38,145
inns | hotels | resorts | rentals | attractions | dining | real estate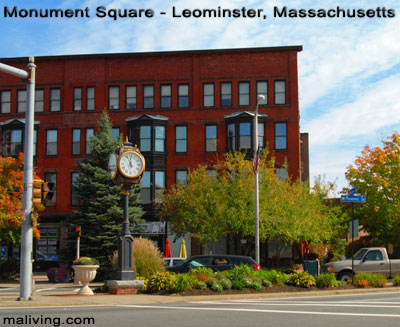 LEOMINSTER MA GIFTS

Inns | Hotels | Resorts | Vacation Rentals

Real Estate | Products

Dining | Attractions | Business

History | Weather | Beaches

Fishing | Golfing | Towns

Art Galleries | Massachusetts Shopping
Free World Mall

Country Weddings | New England Recipes

Boston Red Sox Gifts | Travel Destinations