Oak Bluffs, Cape Cod MA 02557
Oak Bluffs, MA Business Vacations Real Estate History
Oak Bluffs is located on the picturesque island of Martha's Vineyard.
Oak Bluffs, MA is home to one of the two Steamship Authority ferry ports on the island.  Oak Bluffs is well known for its gingerbread cottages. These cottages are historic landmarks and are located on some of the most expensive real estate in the nation. Many of the Oak Bluffs cottages are still family-owned and maintained with bright colors and elaborate detail work.
Share Oak Bluffs, MA information or feature your business, contact us.
Oak Bluffs, MA Settled: 1642
Incorporated: 1880
County: Dukes
Oak Bluffs, MA Population:
2008: 3,735
2000: 3,713
1990: 2,804
inns | hotels | resorts | rentals | attractions | dining | real estate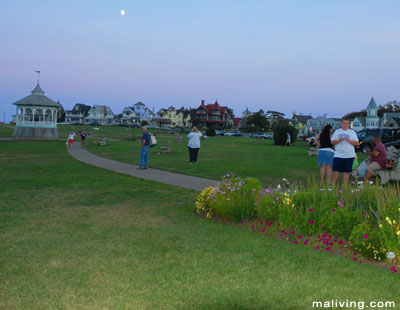 OAK BLUFFS MA GIFTS

Inns | Hotels | Resorts | Vacation Rentals

Real Estate | Products

Dining | Attractions | Business

History | Weather | Beaches

Fishing | Golfing | Towns

Art Galleries | Massachusetts Shopping
Free World Mall

Country Weddings | New England Recipes

Boston Red Sox Gifts | Travel Destinations