Salem, Massachusetts 01970
Salem, MA Business Vacation & Relocation Information
The well-known North Shore community of Salem, Massachusetts is located on Salem Bay, only 16 miles north of Boston. Salem State College, the Essex County District Superior and Probate Courts, Peabody and Essex Museum, and many other facilities make their home in Salem.
Salem, Massachusetts is the Hub of the North Shore. Salem is a thriving town. Salem is most well known for the infamous Salem Witch Trials held through the spring and summer of 1692. By the end of summer, 180 people had been accused of witchcraft. Those people were left defenseless against the accusations and were either imprisoned or killed. The Salem Witch Museum takes you back to 1692 and uses life-size figures, amazing lighting, and narration to recreate this dramatic historical event.
Share any Salem, MA information or feature your business, contact us.
Salem, MA Settled: 1626
Incorporated: 1629
County: Essex
Salem, MA Population:
2008: 41,256
2000: 40,407
1990: 38,091
inns | hotels | resorts | rentals | attractions | dining | real estate
SALEM MA GIFTS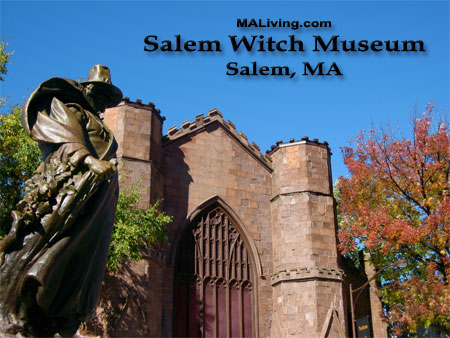 Photo by Tim Grafft/MOTT
Inns | Hotels | Resorts | Vacation Rentals

Real Estate | Products

Dining | Attractions | Business

History | Weather | Beaches

Fishing | Golfing | Towns

Art Galleries | Massachusetts Shopping
Free World Mall

Country Weddings | New England Recipes

Boston Red Sox Gifts | Travel Destinations