Stockbridge, Massachusetts 01262
Stockbridge, Mass. Town Travel Business Vacation & Relocation Information
The small town community of Stockbridge, Massachusetts was the inspiration for painter Norman Rockwell and is now home to the Norman Rockwell Museum. Tanglewood, the summer home of the Boston Symphony Orchestra, is located on the Lenox/Stockbridge border. Stockbridge is mentioned in two famous songs; 'Sweet Baby James' by James Taylor and Alice's Restaurant was the inspiration for the song by the same name sung by Arlo Guthrie. Arlo Guthrie was raised in Western Massachusetts.
Home to the Berkshire Botanical Garden, Stockbridge is full of history and natural beauty.
To share any Stockbridge, Mass. information with us, please contact us. Learn more about advertising in MALiving.com.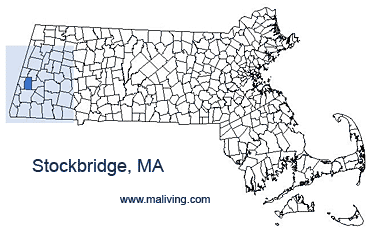 Settled: 1734
Incorporated: 1739
County: Berkshire
Stockbridge, MA Population:
2008: 2,217
2000: 2,276
1990: 2,408
inns | hotels | resorts | rentals | attractions | dining | real estate
Lenox, Northampton, Amherst, Holyoke, Springfield, Pittsfield, Stockbridge, Lee, Adams

Worcester, Brookfield, Fitchburg, Leominster, Southbridge, Sturbridge

Lawrence, Lowell, Salem, Beverly, Gloucester, Marblehead

Boston, Cambridge, Chelsea, Somerville

Brockton, Duxbury, Fall River, New Bedford, Taunton, Plymouth

Falmouth, Barnstable, Hyannis, Nantucket, Marthas Vineyard, Provincetown
Stockbridge, MA Living Resources

Stockbridge, MA Airports
Stockbridge, MA Art Galleries
Stockbridge, MA Autos
Stockbridge, MA Camping
Stockbridge, MA Golfing
Stockbridge, MA Microreweries
Stockbridge, MA Shopping
Stockbridge, MA Theaters
Springfield, MA Antiques
Stockbridge, MA Attorneys
Stockbridge, MA Inns
Stockbridge, MA Classifieds
Stockbridge, MA Hiking
Stockbridge, MA Museums
Stockbridge, MA Skiing
Stockbridge, MA Weather
Stockbridge, MA Apple Orchards
Stockbridge, MA Attractions
Stockbridge, MA Beaches
Stockbridge, MA Dining
Stockbridge, MA Hotels
Stockbridge, MA Radio Stations
Stockbridge, MA State Parks
Inns | Hotels | Resorts | Vacation Rentals

Real Estate | Products

Dining | Attractions | Business

History | Weather | Beaches

Fishing | Golfing | Towns

Art Galleries | Massachusetts Shopping
New England Living Magazine
Free World Mall

Country Weddings | New England Recipes

Boston Red Sox Gifts | Travel Destinations