Truro, MA 02666
Truro, MA Business Vacations Real Estate History
Truro, Massachusetts is home to the spring where America's founding Pilgrims had their first drink of water in the new land. They also found the corn which saved them from starvation on Truro's 'Corn Hill'. Truro boasts some of the most magnificent beaches on both Cape Cod Bay and the Atlantic Ocean.
Truro provides an inspiring setting for artisans, tourists, and passers-by, you can't deny the stunning landscape of dunes, beaches, and rolling hills.
Cape Cod Light, the oldest lighthouse on Cape Cod, is in Truro. First erected in 1797 and replaced by the current structure in 1857 this national landmark barley stands and the town hopes to gain funds to fix the deterioration. Cape Cod Light is 66 feet tall and open for tours during the summer months, but the grounds are open year-round.
Share Truro, MA information or to feature your business, contact us.
Settled: 1700
Incorporated: 1709
County: Barnstable
Truro, MA Population:
2008: 2,125
2000: 2,087
1990: 1,573
inns | hotels | resorts | rentals | attractions | dining | real estate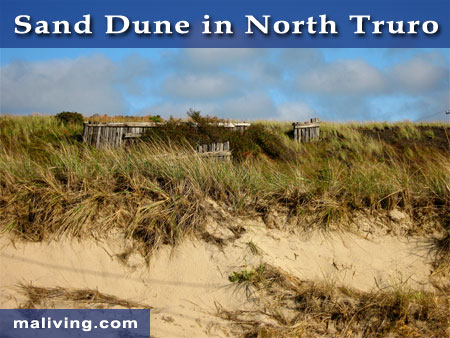 Photo by Tim Grafft/MOTT
TRURO MA GIFTS

Inns | Hotels | Resorts | Vacation Rentals

Real Estate | Products

Dining | Attractions | Business

History | Weather | Beaches

Fishing | Golfing | Towns

Art Galleries | Massachusetts Shopping
Free World Mall

Country Weddings | New England Recipes

Boston Red Sox Gifts | Travel Destinations